NFIP reauthorization takes 'common sense approach' but more can be done | Insurance Business America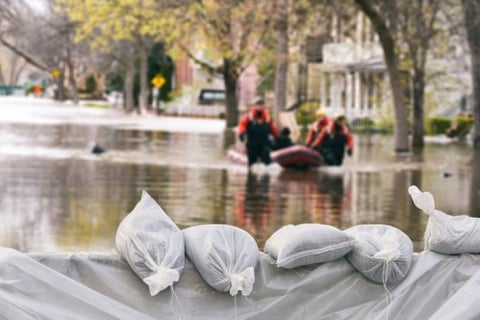 Congress has extended the National Flood Insurance Program (NFIP) by two weeks to buy more time for lawmakers to agree upon a long-term reauthorization of the federal program.
The NFIP will continue to run as it stands until December 22, when it's hoped the House and the Senate will come to terms over what they want the reauthorized program to look like.
There has been
heated debate over NFIP reforms
for many months, which became even more emotive in light of this year's catastrophic hurricane season and considerable losses. Those in flood-prone areas have asked for provisions to keep NFIP coverage affordable, while others have pressed for reforms that would result in potential rate hikes for many homeowners.
Ahead of the reauthorization, Insurance Business spoke to Alan Rubin, principal with law firm Blank Rome LLP, who has more than 30 years of experience handling matters related to extreme weather events. He said the bill being debated in Congress takes a "common-sense approach" to reauthorization and includes "some very good" ideas.
As it stands,
the NFIP bill in debate
would require flooding disclosures during real estate transactions, help educate buyers about flooding history before closing on a property, and provide specific definitions around repetitive loss structure – all of which Rubin described as "really important."
"Under the proposed bill, prospective homeowners have to be told if they're looking at an area that floods and they have to be given the flood history of the property they're looking at, so they can take that information into consideration before buying," said Rubin.
The bill will also make property developers think more closely about flooding. Developers will have to disclose flood history and abide by a new identification structure (repetitive, severe, extreme risk, etc.). Acknowledging extreme flood risk could dampen their ability to sell homes and therefore dissuade them from developing certain areas.
"This is one of the major problems we've had in the US for a very long time," Rubin commented. "There are some places where we just shouldn't build, because we know that either through storm surge, hurricanes or water level rise, there's a
considerable flood risk
. The proposed reforms are good, but I think more needs to be done. I think they have to dedicate certain areas as wetlands and stop people from building on them.
"Another thing FEMA (the Federal Emergency Management Agency) is starting to do is take risk mitigation into consideration – and they are doing that through regulation. With this proposed bill, people buying a property have to go with their eyes open and learn its flood history. As time goes on, I think we will see
more amendments to address preparedness
and stricter enforcement and timeframes around flood plans."
Related stories:
FEMA to recover funds from the private reinsurance markets
FEMA taps actuarial firm for NFIP overhaul