Will the industry remain people-centric despite data and insurtech boom? | Insurance Business America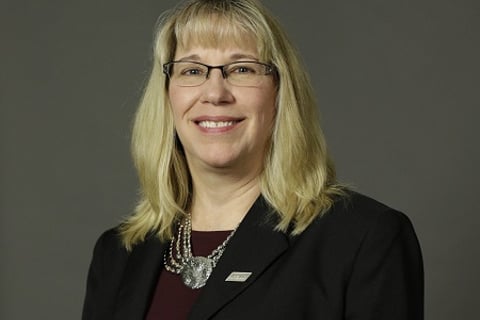 If at first you don't succeed, try, try again. Cliché as it may sound, this thinking helped Melissa Appenzeller (pictured) reach where she is today.
Appenzeller dealt with numbers in college as a math major and, on the side, she studied computer science. While it was her goal to be in the teaching field, she soon realized that she did not have the patience.
In her senior year, it was her professor that introduced her to the actuarial field. Believing she could pull it off, she took the actuarial exam only to fail miserably. Appenzeller, however, never took her eyes off the prize and took the exam again. This time, she prevailed.
Appenzeller was hired by EMC as an entry-level actuary. She climbed the ranks, pursued continuing education, and earned her FCAS and CPCU designations. Today, she serves EMC Insurance Companies as vice president for actuarial pricing & product development and oversees the corporate office actuarial department in Des Moines, Iowa.
In this exclusive Insurance Business interview, she talks about how several disruptors are affecting the insurance space. She also shares her involvement with the Casualty Actuarial Society and American Academy of Actuaries.
Tell us briefly about your company and its role in the insurance industry. What makes it different from other companies in the same space?
EMC Insurance Companies (EMC) is among the top 60 insurance organizations in the country based on net written premiums, with more than 2,500 team members. We provide property and casualty insurance products and services throughout the United States and write reinsurance contracts worldwide.
Every insurance company has insurance. What sets EMC apart is our ability to provide policyholders with the expert technical resources and innovative tools they need to reduce losses and save money. Our company's longevity also makes us unique. We've been serving our customers for more than 107 years.
We know our policyholders, agency partners, team members and communities are what matter most. That's why we consistently look for ways to deliver positive experiences and the protection they need to feel secure.
What is the most fulfilling aspect of your work in the insurance space?
There's not one single aspect but many that are fulfilling about my work at EMC. Every day, I get to lead talented individuals who provide varied services to many different customers, including our 16 branch offices, personal lines operations and EMC Reinsurance. Working with such a variety of functional areas presents continuous opportunities to expand my expertise and skillset.
At the end of the day, I can feel good about contributing to an industry that provides assistance when it's needed most. Not everyone can say that their business helps rebuild homes and businesses after a storm, helps deliver medical attention after someone is injured on the job, or helps auto owners get back on their feet following an accident.
What do you think are the most challenging issues facing the insurance industry today?
Challenges in the insurance industry continue to include top issues such as cybersecurity, changing weather patterns, and data management. In addition, disrupters such as driverless vehicles, the Internet of Things, and blockchain are certainly issues facing insurance companies of all sizes. We are challenged to consistently develop and invest in innovative products and services in a fast-paced environment that helps us deliver greater value to both agents and policyholders.
What are your hopes for the insurance industry moving forward?
With the data explosion and insurtech innovations, the environment is changing quickly. And as the presence of data and technology grows in our industry, it is even more important to maintain the human aspect of our business.
At EMC, our focus is on helping people and businesses get the insurance products and services they need, and, if a claim occurs, helping them put their lives and businesses back together. We address the specific needs of individual marketplaces through our partnership with independent agents and the local branch offices we have throughout the country. EMC knows that people and relationships matter most, and my hope is that the industry as a whole remains people centric.
Please tell us about your involvement in the Casualty Actuarial Society and American Academy of Actuaries. How do these help you in your field?
The CAS and the AAA are key organizations for actuaries. Through both, I can keep up on continuing education opportunities and professionalism standards. Plus, the organizations host multiple webinars throughout the year that educate on a variety of topics. I try to take advantage of those as much as possible to keep up with current trends in the actuarial field.
Is there something about yourself that you are working on improving?
Enhancing my leadership skills is consistently on my to-do list. I am fortunate to lead a team of talented individuals with great potential. By continuously improving my leadership abilities, I can help them grow and pursue professional development opportunities as well.
When you have 30 minutes of free time, what do you do to pass that time?
Outside of work, if I happen to have 30 minutes to myself, I enjoy walking my dog, doing some leisure reading, listening to a podcast or cooking.