What do the top travel insurance companies in Canada cover? | Insurance Business Canada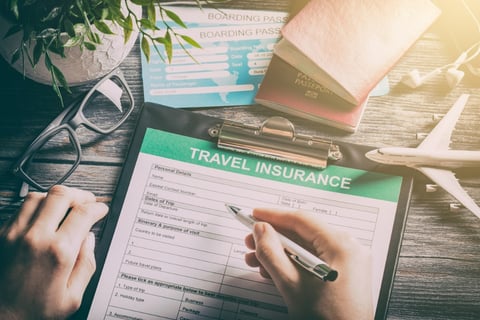 If there is one thing that Canadian travellers have learned from the COVID-19 pandemic, it is how a single event can prove costly and disruptive to their travel plans.
With the coronavirus outbreak forcing governments worldwide to suddenly shut down borders, the country's travel sector was among the industries to bear the brunt of the impact. At the height of the pandemic in 2020, travel insurers across the nation paid out $950 million in claims, according to figures gathered by the Canadian Life & Health Insurance Association (CLHIA).
The association added that these almost billion dollars in reimbursements covered largely trip cancellations, which included flights and hotel room bookings. Sadly, for the large number of Canadians who opted not to take out travel coverage, they lost thousands of their hard-earned money.
So, it is not surprising that in a recent poll by travel insurance specialist Generali Global Assistance (GGA), the majority of Canadian respondents (60%) said that they were likely to purchase coverage for their upcoming trips.
The insurer's 2022 holiday barometer survey – conducted between April and May and participated in by a national representative sample of 1,000 Canadians – also revealed that summer travel is close to returning to pre-pandemic levels, with 61% of respondents indicating plans to go on a trip, either domestically or overseas.
Read more: Travel insurance industry tested by disruption from coronavirus
How did the pandemic change how Canadians plan their travels?
Earlier this year, the government began easing border restrictions, triggering a surge not only in travel-thirsty Canadians heading abroad but also in the sales of travel insurance, which is designed to keep them protected during their trips.
A recent analysis of comparison website RATESDOTCA of insurance quotes from the first quarter of 2021 to the same period this year has shown a significant year-on-year rise in interest across all types of travel insurance plans.
Annual travel insurance plans posted the biggest increase at a whopping 1,229%, followed by trip cancellation policies at 1,175%. All-inclusive coverage, the most comprehensive plan type, also registered a massive spike in interest, with inquiries climbing 1,032% year-on-year.
"While travel intent may be up, the COVID-19 virus remains active – and many Canadians have the foresight to consider travel insurance to mitigate risks," the site noted. "As Canadians plot their next getaway or travel to see family overseas, they'll want to ensure they protect themselves financially if there are cancellations or travel guidelines change."
Read more: Airport delays prompt Canadians to consider travel insurance – survey
How does travel insurance work in Canada?
Most travel insurance policies in Canada are designed to cover costs incurred from health-related emergencies and disruptions to the travel itinerary. Here are the common types of plans Canadian travellers can access, along with their corresponding features and benefits, according to RATESDOTCA.
1. Single-trip emergency medical travel insurance or single-trip travel insurance
Covers emergency medical expenses that may arise during the trip
Coverage for a single trip can last up to 365 days
Provides up to $10 million in emergency medical benefits
Travellers may need to complete a health questionnaire to qualify for the policy depending on their age
2. Annual emergency medical travel insurance or multi-trip travel insurance
Covers all trips taken over the course of a year
Best travel insurance for people who take multiple trips in a year, and those who travel frequently for business
3. Trip cancellation and interruption insurance
Covers the full cost of the trip if cancelled, delayed, or interrupted for reasons beyond the traveller's control
Trip cancellation and trip interruption coverage are similar insurance types, but the difference is that cancellation applies before the trip, while the latter comes into play once travellers already left
Best for travellers who have medical coverage through their employer's health benefits or credit card
4. Top-up travel insurance
Optional insurance coverage for travellers who already have coverage through an employer or a credit card but who are not covered for the entire length of the trip, or do not have enough coverage
Ensures travellers get extended coverage for the full length of the trip
5. All-inclusive travel insurance
Bundles common travel coverages, including unexpected medical emergency, loss of baggage, and trip delay, cancellation, and interruption insurance into a single policy
Most expensive option, but also offers the best protection
Read more: Nine simple ways Canadian travellers can save on insurance costs
What types of COVID-19-related coverage are available for Canadian travellers?
The good news is unlike at the onset of the pandemic when COVID-19 cover was uncommon, travel insurance providers have since stepped up their game and have started offering protection against disruptions related to the coronavirus.
Tourists, however, also need to consider a few points before purchasing travel insurance policies. These are:
Coverage may be "explicitly excluded" if the destination countries are under an "avoid non-essential travel" (Level 3) or "avoid all travel" (Level 4) advisory at the time of purchase.
COVID-19 vaccination status may also affect coverage – those unvaccinated by choice may have their claims declared ineligible by their insurers.
RATESDOTCA also listed the common COVID-19 protections the top travel insurance companies offer as part of, or as an add-on for, emergency medical travel insurance. Their plans typically include:
Emergency medical costs – including intensive care, medical tests, and medications – for up to $1 million per insured
Non-COVID-19 emergency medical coverage for physical injury and illness for up to $5 million per insured
Quarantine-related costs – including meals and accommodation – for up to $2,000 per insured
Ambulance transportation costs
Air evacuation from destination to Canada, including a one-way economy ticket for the insured, and may also cover passage for dependents and travelling companions
Repatriation costs up to $5,000 per insured in the event of death
Read more: What COVID-19-related cover do Canada's top travel insurers provide?
What do the best travel insurers in Canada cover?
There is no single travel insurance policy that can cater to the varying needs of every traveller. Different insurers offer varying levels of protection and often the best travel coverage is the one that fits the unique requirements of each trip.
A basic plan covering flight cancellation, for example, would suffice if a person already has supplemental individual medical coverage and is going on a trip within Canada. On the other hand, adventure travel enthusiasts planning a hiking trip to Alaska would benefit from a comprehensive plan with emergency medical care and evacuation back home in the event of an accident.
Here are some of the key coverages the best travel insurance providers in Canada offer.
1. 21st Century
Policy name: Medicare International Travel Insurance – All-Inclusive Plan
| | |
| --- | --- |
| Type of coverage | Limit |
| Emergency medical care | ​$10 million |
| Trip cancellation or interruption | $3,500 per trip |
| Baggage loss or delay | $1,000 (loss), $500 (delay) |
| Flight and travel accidents | $100,000 (flight), $50,000 (travel) |
2. Allianz Global Assistance
Policy name: Medical + Cancellation Plan
| | |
| --- | --- |
| Type of coverage | Limit |
| Emergency medical care | ​$10 million |
| Trip cancellation or interruption | Amount purchased |
| Baggage loss or delay | $1,000 (loss), $400 (delay) |
| Flight and travel accidents | $100,000 (flight), $50,000 (accidental death & dismemberment) |
3. BMO
Policy name: Single Trip Premium Travel Plan
| | |
| --- | --- |
| Type of coverage | Limit |
| Emergency medical care | ​$5 million |
| Trip cancellation or interruption | Up to sum insured to maximum of $20,000 per certificate (cancellation), $2,000 per insured person (interruption) |
| Baggage loss or delay | $750 per insured person to a maximum of $2,000 per trip |
4. CIBC
Policy name: Comprehensive Travel Insurance
| | |
| --- | --- |
| Type of coverage | Limit |
| Emergency medical care | ​$10 million |
| Trip cancellation or interruption | Amount purchased; available up to $50,000 per person for trip cancellation |
| Baggage and personal effects | $2,000 |
| Accidental death and dismemberment | $10,000 |
Policy name: Travel Insurance
Type of coverage

Limit

Emergency medical care

​$5 million

Trip cancellation or interruption

Non-refundable fees paid to a travel service provider

Baggage loss or delay

Actual value of baggage and personal effects, up to $500 for jewellery, watches, or articles made of gold, silver, or platinum
$500 for other belongings
$500 for baggage delay

Flight accident

100% of insurance amount for death or loss of use of two or more body parts
50% of insurance amount for loss of use of one body part

Accident while travelling

200% of insurance amount for death due to an accident while travelling as passenger of a common carrier vehicle
100% of insurance amount for death due to other accidents and loss of use of two more body parts
50% of insurance amount for loss of use of one body part
6. Goose Insurance
Policy name: Single Trip Worldwide
| | |
| --- | --- |
| Type of coverage | Limit |
| Emergency medical care | $10 million |
| Trip cancellation or interruption | Up to sum insured |
| Baggage insurance (optional) | $1,500 per insured to a maximum of $3,000 for the family |
| Unstable pre-existing medical condition (optional) | $250,000 |
7. Johnson Insurance
Policy name: MEDOC Travel Insurance
Type of coverage

Limit

Emergency medical care

​$10 million

Trip cancellation or interruption

$15,000 per insured person per trip

Baggage and personal effects

$1,500 per insured person to a maximum of $3,000 per family

Flight accident

$150,000 to policyholder's estate in case of death
$150,000 for an injury causing a loss of both hands or feet, or sight in both eyes
$75,000 for an injury causing the loss of one hand or foot, or sight in one eye

Accidental death and dismemberment

$50,000 policyholder's estate in case of death
$50,000 for an injury causing a loss of both hands or feet, or sight in both eyes
$25,000 for an injury causing the loss of one hand or foot, or sight in one eye
Policy name: CoverMe Single-Trip All-Inclusive Plan
| | |
| --- | --- |
| Type of coverage | Limit |
| Emergency medical care | ​$10 million |
| Trip cancellation or interruption | $3,500 per trip |
| Baggage loss or delay | $1,000 (loss), $500 (delay) |
| Flight and travel accidents | $100,000 (flight), $50,000 (travel) |
9. Medipac
Policy name: MedipacMAX
| | |
| --- | --- |
| Type of coverage | Limit |
| Emergency medical care | ​$5 million (including COVID-19) |
| Accidental death | $10,000 |
| Relocation benefit | $5,000 |
| Pet benefit | $1,500 |
| Excess luggage benefit | $1,000 |
| Return to Canada benefit | $4,000 |
| Canadian hospitalization benefit | $2,000 |
| Inpatient rehabilitation benefit | $5,000 |
10. RBC
Policy name: Classic Medical Single-Trip Plan
| | |
| --- | --- |
| Type of coverage | Limit |
| Emergency medical care | ​Unlimited |
| Return to trip destination | One-way economy fare |
| Out-of-pocket expenses | $1,750 |
| Repatriation of remains | Unlimited transportation costs |
| Emergency transportation | One-way economy fare, or stretcher, or qualified medical attendant or air ambulance |
| Return of excess baggage | $500 |
11. Scotiabank
Policy name: Scotiabank Travel Insurance – Out of Province (Single-Trip All-Inclusive Plan)
| | |
| --- | --- |
| Type of coverage | Limit |
| Emergency medical care | ​$5 million |
| Trip cancellation or interruption | $3,500 per trip |
| Baggage loss or delay | $1,000 (loss), $500 (delay) |
| Flight and travel accidents | $100,000 (flight), $50,000 (travel) |
| BounceBack benefit | $2,000 |
12. TD Insurance
Policy name: Travel Medical Insurance Single-Trip Plan
| | |
| --- | --- |
| Type of coverage | Limit |
| Emergency medical care | ​$5 million |
| Private duty nursing | $5,000 per trip |
| Accidental dental | $2,000 |
| Bedside companion benefit | Round-trip economy airfare and up to $1,500 for meals and accommodations |
| Vehicle return | $2,000 |
| Return of deceased | $10,000 |
13. World Nomads
Policy name: Travel Insurance Standard Plan
| | |
| --- | --- |
| Type of coverage | Limit |
| Emergency medical care | ​$5 million |
| Trip cancellation or interruption | $2,500 per trip; $700 per day (trip delay) |
| Emergency evacuation and repatriation | $500,000 |
| Bedside companion travel and subsistence | Maximum 10 days; return economy airfare |
| Baggage loss or delay | $1,000 (loss), $100 (delay) |
| Flight and travel accidents | $50,000 (flight), $10,000 (travel) |
| Return of remains | $5,000 |