Allstate Canada's Jeff Cormier wins Community Hero Award | Insurance Business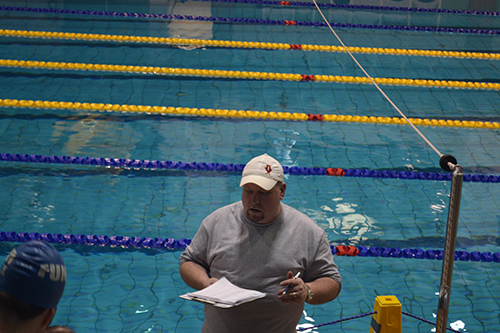 Allstate Insurance Company of Canada has selected Jeff Cormier (pictured), customer care agent in Saint John, NB, as the 2020 recipient of Allstate's national Community Hero Award. The award recognizes Allstate Insurance Agency employees who are role models for community outreach, service, and volunteerism where they live and work.
This is Cormier's ninth nomination, fourth regional award, and first national win. It recognizes his invaluable service and involvement with Special Olympics New Brunswick, where he has worked as a coach and mentor to Special Olympics athletes – primarily in swimming - for over 10 years. Alongside coaching and mentoring, Cormier also organizes fundraising events and serves as treasurer on the Special Olympics New Brunswick board of directors.
"I'm humbled and thrilled to have been chosen as the national recipient of the Community Hero Award," said Cormier. "I volunteer not for the awards or recognition, but for the opportunity to give back to organizations I hold near and dear to my heart.
"I have a lot of family involved in the Special Olympics, including two athletes. My father-in-law is the regional coordinator for Special Olympics Fundy region and my wife is the treasurer. I do a lot of volunteering and coaching for several sports, but I'm the head coach for swimming in the Fundy region."
The Special Olympics runs provincial, national, and world championships. Cormier has travelled around Canada with the national team as the national assistant coach for swimming, and while he hasn't been to the world championships yet, it's something he hopes is on the cards for the future.
Read next: Allstate Canada to hand out second wave of auto insurance rebates
"Allstate has been very good to me and has supported my work with Special Olympics," Cormier told Insurance Business. "I've been working for Allstate for a number of years, and I've been very well supported [in terms of volunteer time], and with donations and so on. I think it's great for insurance agents and brokers to get out there and do some volunteering if they can. It gets more positive recognition for insurance, and it reminds people that we're not just insurance agents; we're people who care about the community."
Alongside his work with Special Olympics, Cormier has also supported organizations, such as MADD Canada's (Mothers Against Drunk Driving) Saint John and Area chapter, as well as The Shoebox Project.
"MADD supports victims and tries to stop impaired driving. I've helped out with some fundraising and I also attend their board meetings. Every year, they have 'Strides for Change,' which is a big walk where they raise money and funding. I'm involved with that, and with the Allstate Group, we always go out and support MADD every year," said Cormier. "This was the first year we've done The Shoebox Project, and it was a great success. We ran a local drop-off, where people could drop off filled boxes for people in need, and I believe we had more than 60 shoe boxes this year."
Read more: Allstate Canada reveals new water protection solution
Marcelo Regen, vice president of Allstate Brand Innovation & chief customer officer, Allstate Canada Group, described Cormier as a "caring and committed" insurance agent. He added: "It's both an honour and an inspiration to work alongside [Jeff]. He has truly gone above and beyond the call of duty by dedicating his time and energy supporting organizations like the Special Olympics New Brunswick. Through his leadership, Jeff has been able to strengthen the fabric of his community. It is a true testament of his character and I'm proud and humbled to recognize him as the national recipient of the Community Hero Award."
As the national recipient of the Allstate Community Hero Award, Cormier has chosen Special Olympics as his charity to receive a $2,000 donation from the Allstate Foundation of Canada. He reiterated his passion for the cause, stating: "I'm proud to be able to lend my time to great organizations like Special Olympics New Brunswick that is dedicated to enriching the lives of Canadians with an intellectual disability through sport. It's a mission I wholeheartedly stand behind."
This year's regional Community Hero Recipients, each of whom will be able to donate $500 to a Canadian charity of their choice, include: Alexis Duncan, business development agent in Burlington; Alyssa Craig, business development agent in Thunder Bay;Denyse Renaud, agency assistant in Faubourg Boisbriand; John Kealey, agency manager in West Ottawa; Michelle Zambri, agency manager in Vaughan; Sarah Langis, agency manager in Waterloo & Stratford; and Tony George, business development agent in Sherwood Park.