Aviva Canada CEO reflects on "strong" H1 performance | Insurance Business Canada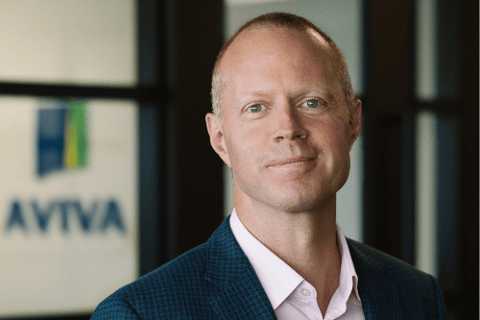 "Aviva Canada delivered strong results in the first half of 2021." Those are the words of Jason Storah (pictured), CEO of Aviva Canada, who added that it's "always nice […] when you're not digging out for the second half".
In the six months ending June 30, 2021, Aviva Canada's operating profit increased 78% to £229 million (approx. CA$398.8 million), from £129 million (approx. CA$224.6 million) in the same period last year. The insurer attributed this growth to a reduction in COVID-19 related claims, lower catastrophic weather losses, and actions taken around pricing, indemnity management, and risk selection.
Rate increases and strong new business performance in commercial lines led to a successful six months for this area of Aviva Canada's business. Gross written premium (GWP) for commercial lines increased 11% in H1 to £614 million (approx. CA$1.1 billion) from £551 million (approx. CA$959 million) in the first half of 2020, with the global corporate and speciality segment reaching CA$0.5 billion.
Read next: Insurers eye CATs and COVID reopening in second half
Meanwhile, in personal lines, the H1 performance was broadly in-line with the prior year period, with increased commissions partially offset by slightly favourable net claims incurred. However, specialty personal lines GWP increased by 4% from £358 million (approx. CA$623 million) to £371 million (approx. CA$646 million), and high net worth policy count increased by 20% in the period.
In total, Aviva Canada achieved premium growth of 6% in the first half of 2021, with a combined operating ratio of 88.8% and strong underlying profitability.
"Personal lines and commercial lines are two very different tales," Storah told Insurance Business. "Commercial lines continued to see market hardening. We are seeing signs of it easing off, but definitely in the first half of the year, we saw the benefits of rate hardening and also really strong retention. Our global corporate and speciality business saw really great growth, as well as our mid-market commercial business. We've invested heavily into our mid-market business over the last couple of years, and it's now performing really well from a growth and profitability perspective.
"And then in personal lines, we've seen continued downward pressure on rates in personal auto, which obviously depresses the top line a little bit, but even with that downward pressure, we grew a little and we saw some policy count growth as well. Our specialty personal lines business is doing really well – we saw strong growth there – but the retail personal lines segment has been more subdued in the first half of the year, which is what we would have expected."
There are a combination of factors contributing to the "subdued" activity in personal lines. Throughout the COVID-19 pandemic, Canadians' have been driving far less due to the stay-at-home orders in place for public health and safety. Those patterns are starting to change as people return to work in offices and children return to school, but the impact of COVID-19 is still very much present, and the recovery is fluid in that there's the potential for more waves of the virus to once again lockdown Canadian society.
Read more: Aviva Canada's GCS division tackles inflation with 'out of the box' strategy
"Our retention is really high, so that tells me we're in a good spot with our customers, and obviously some of the rate actions that we've taken and the COVID-19 measures that we've taken hopefully helped our customers," said Storah. "How long will that continue? I don't know, but certainly in the first half of the year, it was quite sedate in terms of what happened in the personal auto market. If I look forward to the second half of the year, if the continued opening up doesn't hit any roadblocks, then I think it's reasonable to assume that driving behaviour will increase, and, with that, claims frequency will increase in some shape or form as well. So, I expect that when we look back at the full year, we'll see the first half and the second half, maybe with some slightly different trends."
A big focus for Aviva Group in the second half of the year are its transformational initiatives. Group chief executive Amanda Blanc said: "While we've got more to do, our half-year results show we have what it takes to drive growth in our businesses. We remain completely focussed on transforming performance, capitalising on the breadth of Aviva, making insurance simple and easy for our customers, and creating value for our shareholders."
In Canada, Storah said that journey revolves around three things: digitizing, automating, and simplifying all areas of the business.
"We're not going to do all of those things at once; we're going to prioritize," he said. "We've got a number of small changes that were put into our business, and we're making some large strategic investments as well to drive much bigger transformational changes. Having that lens of digitizing, automating, and simplifying, is the way we're looking at this from a Canadian perspective.
"We've done a lot already in the claim space. I really feel incredibly proud about what the claims team at Aviva Canada has done over the last couple of years. You could look at a number of instances of how we've digitized, automated and simplified our claims proposition both internally and externally for customers. We'll also be launching a telematics product in auto in the coming months, and we are going through a Guidewire transition for our broker personal lines business. Those things don't happen quickly, but when they do, we know we're going to see some automation and simplification benefits from that."