Insurers eye CATs and COVID reopening in second half | Insurance Business Canada
Over the past few weeks, insurance companies across Canada have reported their financial results for the first six months (H1) of 2021. It's a similar story across the board, with many insurers reporting good results driven by rate strengthening in commercial lines and lower than average personal auto activity. They were also helped out by the fact that there were no major natural catastrophe (CAT) events in the six months ending June 30, 2021.
"There was no CAT activity in the first six months of the year. That's pretty unheard of – at least during my time in Canada," said Jason Storah (pictured above), chief executive officer, Aviva Canada. "Certainly, we benefited at Aviva Canada from that very low CAT activity, as I'm sure the whole industry did."
But Mother Nature doesn't sit still for long. The second half of the year (H2) kicked "with a bang," in Storah's words, bringing three CAT events in quick succession. First came the wildfire in Lytton, British Columbia. The town in Fraser Canyon was literally razed to the ground on June 30, following five straight days of temperatures above 40ͦC and months of drought conditions. This is now one of several catastrophic tales from a very hyperactive 2021 wildfire season in western Canada.
Read next: IBC says Lytton wildfire is just the tip of the iceberg for insurers
On July 02, Calgary was pummelled by a summer storm that brought strong winds, rain and hail. According to the Insurance Bureau of Canada, the storm caused significant flooding and cost almost $250 million in damage. Then on July 15, an EF-2 tornado tore through Barrie, Ontario, with wind speeds of 210 km/h, leaving hundreds of homes either uninhabitable or severely damaged. According to the Institute for Catastrophic Loss Reduction (ICRL) the Barrie tornado could cost more than the 2014 Angus EF-2 twister, which triggered roughly $50 million in insurance claims.
"The CAT weather definitely came back with a vengeance in July," said Storah. "But we plan for CATs every year (as all insurers do) and we've got headroom for the remainder of the year from a CAT perspective. It's reasonable to assume there will be more CATs in the second half of the year. The wildfire situation in western Canada is particularly concerning, so we're watching that very closely. But I feel very good about us being able to tackle anything that gets thrown at us from a natural catastrophe perspective."
Andy Taylor (pictured below), chief executive officer of Gore Mutual, Canada's oldest property and casualty mutual insurance company, also referred to the relatively benign CAT activity when discussing Gore Mutual's H1 results.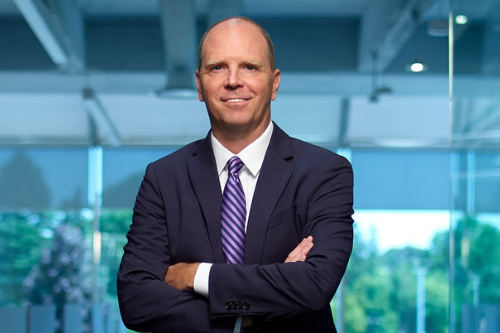 Read more: Gore Mutual reaping rewards from new operating models
"In the first six months of the year, we didn't have a lot of CAT activity. But we've just seen the Barrie tornado, and we've got unprecedented wildfires out west," Taylor told Insurance Business. "We've also got the slow reopening of the economy, so we're tracking frequencies and intake on a daily basis.
"We've already seen a significant, sharp increase in claims intake levels. For example, at the height of the COVID-19 pandemic and the lockdowns, our claims intake levels might have been as low as 60%, but they're now up to 85%, approaching 90%. So, we do expect the second half of the year to be much more challenging than the first half. However, we do feel that we're in a very strong position to still have a solid year, but definitely things are going to be more difficult in the second half."
When schools reopen and people start going back to offices in some shape or form, that will inevitably have an impact on driving behaviour and claim frequency, according to Storah. He said that insurers are going to have to watch how that impacts rate reductions that were pushed through during the height of the pandemic, and figure out "when and how much" they need to unwind those rate actions.
"Looking forward to the second half of the year, if the continued opening up doesn't hit any roadblocks, I think it's reasonable to assume that driving behaviour will increase, and, with that, claims frequency will increase in some shape or form as well," Storah commented. "I expect that when we look back at the full year, we'll see the first half and the second half, maybe with some slightly different trends. But the impact of COVID is still very much present, and I don't think anybody expects that to go away anytime soon."