Billyard Insurance Group makes 'Top 10' list for second year in a row | Insurance Business Canada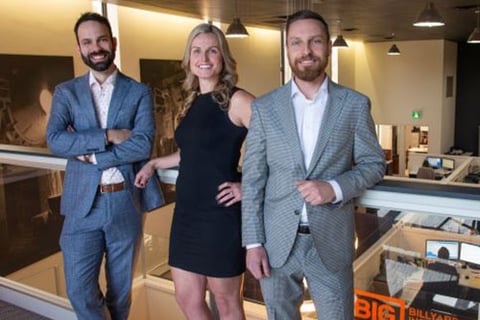 For the second year in a row, Billyard Insurance Group (BIG) has made it on to Insurance Business Canada's list of Top 10 Brokerages, but just because it's not the brokerage's first time around the award-winning block doesn't make the moment any less sweet.
"Our brokerage has really come on the scene in the last few years, so to now be recognized among so many other great brokerages is a bit of recognition for us in the sense that we're being classed with some other fine brokerages, and we're pretty proud of that," said Stephen Billyard (pictured, far right), president of BIG.
IBC's Top 10 Brokerages list celebrates businesses that achieved significant growth over the last year. While focusing on metrics of size and volume, such as revenue and number of clients, IBC also looks at brokerages' year-over-year growth. Accordingly, BIG took critical steps aimed at growing the brokerage's business over the previous 12 months.
Read more: Billyard Insurance Group wins big with old-fashioned ideals
"Our growth strategy is focused on recruiting top talent, which we've been very effective at," explained Billyard. "Part of that is because top talent has recognized what we're doing to support brokers so that they can do what they do best. [We've also focused] on becoming a local broker in key communities. That's been a big part of our growth strategy opening offices as well – we feel a lot of brokerages are consolidating and moving to big call centres. We're trying to do the opposite – be on the ground in the towns where our clients are so we can service them properly."
In fact, that ongoing consolidation in the insurance marketplace is one of the key developments that catches Billyard's eye every time he reads IBC. Nonetheless, the brokerage sees consolidation as a big opportunity because the consumer still wants to do business in their hometowns with trusted advisors, and a lot of this consolidation takes that option away from them. BIG is there to fill the void.
Read more: Aon, Willis Towers Watson reveal mega-merger
Other key steps the business has taken to stand out among the competition include putting people first, even as the insurtech buzzword swarms the industry. Keeping brokers at the centre of the relationship remains an important goal moving forward.
"We have an ethos here in our company and that it is 'brokers first'," said Billyard. "It's our job to take care of our brokers so they can take care of their customers, and we do that through technology that is supporting brokers, through training opportunities available to our brokers, back office support, and leadership from our team here at the head office empowering them to do what they do best for their customers."