From office admin to owner: How one broker scaled the insurance summit | Insurance Business Canada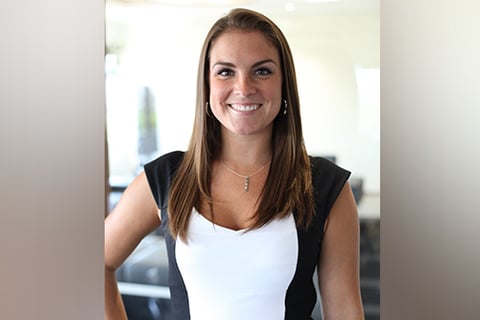 Hailey Taskey (pictured) may have fallen into the insurance industry by accident when a job at a brokerage pulled her away from a career in the family profession. Nonetheless, the 2019 Insurance Business Canada Elite Broker proved herself by working hard and quickly set her sights on ownership, a goal she accomplished last year.
While she originally intended to pursue dentistry after graduating from high school, Taskey took on a role at Excel Insurance & Risk Management in her hometown of Edmonton, answering phones and scanning paperwork. She later began moving up through the office, first as an account assistant, and then as an account manager. Finally, she became an account executive and, along the way, discovered how much she enjoyed her work in insurance.
"I realized that I really loved the industry – I loved the ability to learn a little bit about what a lot of people do and what a lot of different companies do, so it kept it interesting," said Taskey, today a senior advisor and partner at Lloyd Sadd Navacord. "Every day is different and every client is different. You could get a client in the same sector, but they may have a different nuance or a different type of property, and I think that aspect always keep you on your toes."
Instead of going back to university, Taskey got her CAIB and CIP designations while working at the brokerage, before eventually deciding it was time to aim for bigger things.
"I needed to be part of a group that had ownership opportunities," she said. "I knew that Lloyd Sadd had that opportunity because they are basically owners that work in the company – that's the model I wanted to be a part of, so that's where I focused my efforts."
After working as an account executive at Lloyd Sadd for several years, Taskey became a partner in December 2018 and reached the summit of her career goals.
"That was ultimately my big 'aha' moment, and what I had been working towards for a long time," she told Insurance Business, though that wasn't her only accomplishment during the climb up the ladder. "Once I started in the sales role at Lloyd Sadd handling a very significant book of business, I was also nominated as an [Insurance Business] Young Gun in 2017, and that opened my eyes to, 'you must be doing something right because this is working for you and it's going really well.'"
Being a successful broker means standing by clients in the good times and bad, and, right now, the insurance marketplace is presenting a few hurdles.
"The topic of conversation is the insurance marketplace, and the challenges that we're seeing with a possible hardening market, so it's not an easy conversation anymore. It's talking about increases, it's talking about risk and claims management, and claims prevention," explained Taskey. "Insurance had been this easy thing to place and premiums had been relatively competitive, [and] now it's not as easy to place. The costs are going up and people aren't making as much money."
The economy in Alberta is also presenting challenges since many businesses are struggling to make ends meet, which makes higher premiums an additional burden. That hardening market means more negotiation with insurance companies and an emphasis on keeping clients in the loop.
Read more: One-two punch of Alberta's auto insurance market lays out insureds
"The communication to clients is so important – getting ahead of the game and talking to them beforehand, and making sure that they're aware things are shifting," added Taskey. "Open, honest communication, I think, is the biggest thing, and if you carry that out well and your clients have trust in you, you'll be able to navigate through [this market]."
Not that these obstacles should deter other young professionals from choosing a career in insurance. Taskey believes the industry offers a broad range of paths for every interest.
"You can do underwriting, commercial broking, personal lines – there are a lot of areas that you can specialize in, whether it's even claims management or adjusting," she said. "There's a lot of opportunity in this world and I think there's a lot of opportunity to bring fresh, new ideas to how we've typically approached the boring, age-old topic of insurance."