One-two punch of Alberta's auto insurance market lays out insureds | Insurance Business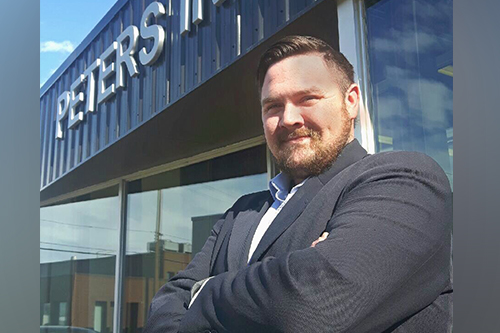 The problems in Alberta's auto insurance marketplace are two-fold, according to one broker. Not only are brokers unable to find coverage for certain risks, but those clients who do purchase auto insurance can have difficulties making payments on their premiums.
"The challenge is availability – that's a huge piece of it. Being able to provide coverage to a client at any price [and] being able to actually secure it for them – right now that's becoming more prevalent where those who are not pristine risks [are penalized so] that it's almost impossible to place the proper forms of coverage at reasonable deductibles and prices with the ability for them to pay for it," said Jonathan Brown (pictured), commercial and personal lines producer at Peters Insurance Agencies. He went on to reference an Ipsos survey conducted on behalf of the accounting firm MNP that was released earlier in 2019, which found that more than half of Canadians are within $200 each month of being unable to cover all their bills or meet their debt obligations.
"Part of the challenge for us to address is that we need the ability to provide payment options beyond pay in full at time of signing because most Canadian families – and I would say that it would fall along those lines as far as those market reports are concerned – are unable to pay for their insurance in full, especially if they have more than one vehicle as well as a property. Where we're seeing the challenge is that if we can't secure a payment plan and we can't secure physical damage coverage, many of them are unable to retain their vehicles because of the requirements of their finance companies. That's definitely a concern."
The even bigger concern for the broker is that in light of these issues, Alberta risks becoming a province where there's a significant number of people driving without insurance, a problem seen in Saskatchewan. Brown told Insurance Business that carriers have an important role to play in alleviating the auto insurance burdens in the province.
"We understand the need for our insurers to make changes within their books of business, and that a business model where you are spending $1.30 for every dollar you bring in is not a sustainable business model, and that has to be addressed," he said. "But, we certainly are hopeful that they will maybe be more willing to work with us, as far as helping those people who truly need help and yet still do it in a way that sustains their business model."
Read more: IBAA forms taskforce to tackle Alberta's auto insurance issues
Yet for the system to truly change, all stakeholders have to be involved in pushing for reforms, included the Insurance Brokers Association of Alberta (IBAA), and the broader broker community.
"Personal auto in Alberta is broken, and we're doing everything we can as an association and then as individual brokers to fix it. The responsibility, I think, lies with all of us, insurers and brokers alike, to address those challenges," said Brown. "We can't turn back time and fix problems that we have now before they became such large issues, but we can look at addressing them moving forward."