A career that's all about taking risks | Insurance Business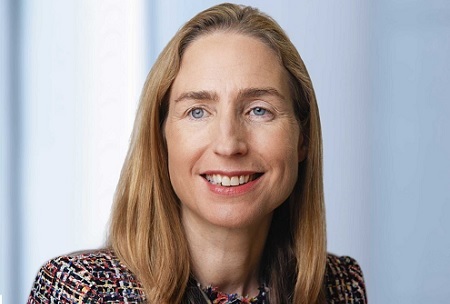 Alison Martin didn't expect to end up working in insurance. Following her studies in law during university, she started working at Price Waterhouse Coopers, where she ended up in the insurance division. This is where, Martin says, her "love of the insurance world grew from" as she worked in insurance audit and insurance consulting. From there she moved to Swiss Re, where the talented executive dipped a toe in almost every pool of the business, quickly learning about everything: underwriting, pricing, costing, reserving, RND, claims. Martin became CFO, but, funnily enough, until she was appointed Zurich's group chief risk officer in September 2017, she hadn't directly worked within the risk group of a business.
Martin tells Insurance Business, that she didn't see this as a problem. She had always learnt a lot in her roles and taken risks herself.
"You have probably noted in my CV that [chief risk officer] has not appeared as an activity I have done before," she said. "But to me I have taken risk on the first line, all the time. That's what I have done throughout my career is take risk. That means you manage risk, you have to have risk awareness, you have to understand the kinds of risks that exist: what could be your downside as well as your upside, you need to think about what your mitigating actions are. So, now, on the second line, I can use all the knowledge I've had of taking risk to really try and help the risk team here at Zurich to think about how we can help the first line team to do appropriate risk taking as efficiently and effectively as possible."
One of the other reasons Martin chose to move to Zurich from Swiss Re, other than the opportunity to try something new, was that she passionately believed in the vision Mario Greco was setting out for the company.
"I really believe in the transformation of the insurance industry and how Mario speaks about that, and, more importantly, the actions that he has put in place to have Zurich very well positioned in that transformation," she said.
Zurich, Martin explains, wants customers to not simply pay a premium and never think about their insurance again. The company wants to move to a model where instead of being an annoying burden, insurance is a value-add service customers enjoy having as part of their lives - and the company is putting actions in place to make this happen.
Growing global risks
As group chief risk officer, Martin has also been instrumental in the World Economic Forum's (WEF) most recent Global Risk Report, which Zurich partnered on with Marsh & McLennan Companies. The report's findings are startling and when released made headlines around the world, with the WEF calling for action from governments and business.
"It should be seen as a great wake-up call to government, to companies, to society at large as to what the risks are we face in society generally, and to business specifically," Martin said.
It's unsurprising that the number one risk in terms of likelihood outlined in the report, which was published in January, was extreme weather events. For insurers, many of whom are seeing increases in these events and therefore a surge in insurance claims following them, the report presents a number of thought-provoking issues – and some that they may wish to lead by example on.
Zurich has taken steps in the environmental space, for example, by choosing to not insure coal plants or invest in companies that get more than 50% of their revenue from coal. And Martin is very firm on her position on the matter of climate change.
"Particularly worrying for me is number two now [behind extreme weather events] is the failure of climate change mitigation and adaption," she said. "I.e. failure of policy to do anything about the risk, and extreme weather events is number one. As an insurer those two things are a little worrying."
The other major risk for insurers, in Martin's opinion, is cyber risk. Although environmental and cyber risk seem very different, Martin believes they are actually very similar in a lot of ways.
"What makes cyber and environmental risk similar, because on the face of it they're quite different, is the fact neither of them have boundaries, neither of them have borders," she explained. "And that makes them very tricky to deal with.
"Cyber is one of those accumulation risks. It's a constantly evolving and emerging risk, and we see an unfortunate lack of awareness."
Diversity in the industry
One of Martin's other passions is to raise awareness of the diversity issue that continues to haunt the sector.
"The insurance industry is probably no poster child for diversity, but Zurich I think is a good poster child," she said. "We're not perfect, but if you look at the changes that Mario has made over the last couple of years alone, he has radically shifted what the executive committee's composition is, so we have much better gender diversity."
These changes, she says, change a culture in an organization and really send strong signals of support to everyone. Personally, Martin is part of Zurich's women's innovation network, and works very hard to ensure she helps other women in the firm.
"I take the role model part of the position very seriously," she said. "I think it's very important if you have that ability to influence others coming through their career that you take that opportunity. I think that sends a really strong signal to the whole organization, but more importantly to the industry at large, that you can be successful - and in fact you are more likely to be very successful - if you have diversity."