Aviva Canada partners with The Hartford on new cross border solution | Insurance Business Canada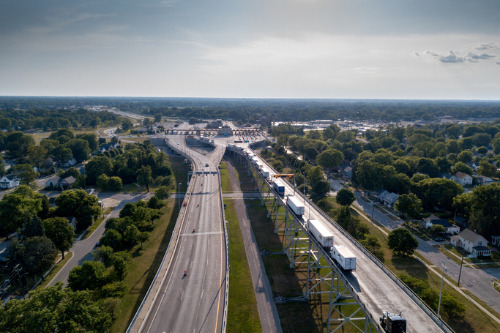 As Canada's largest trading partner, the US market is a logical choice for Canadian businesses looking to expand their operations beyond the Great White North. However, taking a business's operations across the border can bring unique challenges and new risks.
To address the needs of its Canadian clients operating in the US, Aviva Canada has partnered with The Hartford to launch Aviva Cross Border Solutions, which are focused on protecting brokers' clients with property, casualty, and commercial automobile coverage across 50 states, while easing the process of navigating a complicated landscape of regulatory hurdles.
Find out more: Learn everything you need to know about Aviva Canada here
"The challenges that cross border businesses face are very complex. From a regulatory perspective, they're dealing with 50 state jurisdictions that have their own requirements for commerce, as well as the federal requirements for interstate commerce," said Phillip Hoyt (pictured below), cross border lead and assistant vice president at Aviva Canada. "From an insurance perspective, it's the most litigious and complex insurance market in the world. As a result, it's important for Canadian customers to understand those risks and work with insurance professionals that have the capability to provide them with compliant insurance products and support services."
Cross border clients don't just need a comprehensive insurance policy tailored to their exposures – they also need the right partner that can manage and respond to the regulatory environment in the US, and meet claims reporting and consumer requirements, which differ from state to state. Aviva Cross Border Solutions is that partner. Aviva Canada is a leading insurance market in Canada that has a team of dedicated professionals with decades of experience in the US market, and it has established a partnership with The Hartford, a US carrier that boasts market-leading claims management techniques and response times.
In the new Aviva Cross Border Solutions, The Hartford issues US insurance policies, which are reinsured by Aviva, and services the local policy by invoicing the US correspondent broker, handling claims, and providing risk management services. "Aviva Cross Border Solutions have access to the entire scope of The Hartford's capabilities to select the appropriate insurance solution for our client on the ground in the US," said Hoyt. On the claims side in particular, The Hartford has over 5,000 claims professionals across the US, which is important, noted Hoyt, because "when a claim occurs, you need to make sure that you have the best possible claims team on your side to support customers."
Canadian brokers then work with their US broker or through Aviva Canada's correspondent US broker network, to gain a full line of sight into their client's US policies. By using dedicated brokers who specialize in this type of relationship, Canadian brokers can rest easy knowing that they won't have to fend off competition from local brokers working on their accounts, which is a risk that can arise in the cross-border business. Canadian brokers are also provided with a single point of contact at Aviva Canada via their local branch Aviva underwriter in order to support them through a streamlined service.
To be eligible for Aviva's Cross Border Solutions, clients must be insured with Aviva Canada for their Canadian-based business and have a US legal entity, as well as locations and/or operations in the US. Other conditions may apply.
Both admitted policy solutions and surplus lines/non-admitted policy solutions are accessible through Aviva Cross Border Solutions' offering, and are tailored depending on the needs of traditional mid-sized accounts with medium risk exposures, large risk managed accounts with increased exposures, and complex risk managed accounts.
With the new solutions from Aviva Canada and The Hartford in hand, brokers can ensure their client's cross border expansion is protected by all of the critical insurance coverages and services that they'll need to operate safely.