Resources for brokers as flood season strikes | Insurance Business Canada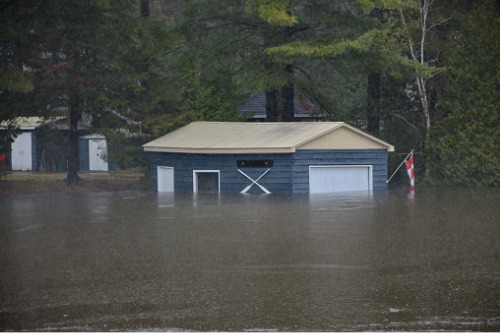 Flood season is well and truly upon us. Last week, 13,000 people were forced from their homes in Fort McMurray, Alberta, after a 25-kilometre ice jam on the Athabasca River caused water levels to rise and eventually submerge much of the oil city's downtown core. In the same week, meteorologists at Environment Canada warned some parts of southern Ontario could see close to a month's worth of rain (between 40 and 70mm) in the span of just a few days – a threat that didn't actually materialize. And it's the same story across Canada … raincoats are at the ready.
The Insurance Bureau of Canada (IBC) has released several flood advisories over the past few days warning residents in different provinces to prepare and take precautions to keep themselves and their property as safe as possible. What's unique about 2020, different to flood seasons past, is that we're also contending with a coronavirus pandemic and government mandated social distancing orders. As such, flood risk preparation and emergency response planning are more important than ever.
"During a severe weather event, everyone's priority must be their personal safety and the safety of loved ones and neighbours," the IBC announced. "Given the current COVID-19 pandemic, emergency responders may have reduced resources. As such, this places greater emphasis on individual preparation."
As the primary point of contact with policyholders, albeit virtually over the past six weeks, insurance brokers play a key role in their clients' individual flood preparation. Brokers are the people dealing with flood risk on a daily basis. They're the ones fielding distressed phone calls from homeowners asking: 'Why has my home flooded? What protection do I have? What financial relief am I entitled to? What can I do to protect my home?' Unfortunately, a lot of these questions come after the fact when the damage is already done, but there are lots of resources that brokers can tap into to help their clients mitigate flood risk upfront.
The Intact Centre on Climate Adaptation (Intact Centre) recently launched a free online broker training course in collaboration with the Insurance Brokers' Association of Canada (IBAC), entitled 'Helping your Clients to Protect their Homes from Flooding'. The self-directed course has been developed based on four years of community-based flood protection research carried out by the Intact Centre, and covers topics like why residential flooding is on the rise, how to mitigate flood risk, and how insurance brokers can help clients to protect their homes from flooding.
"The course is based on a report we published in April 2019 called: 'Water on the rise: Protecting Canadian homes from the growing threat of flooding'. That report compiles about four-years of research, where we went into people's homes (mostly in southwestern Ontario and Saskatoon) and did over 500 home flood assessments," said Daniel Filippi, program manager, resilience and adaptation, Intact Centre on Climate Adaptation. "The assessments were intense. Unlike a home inspection, where an inspector generally assesses the property by themselves, finds the potential risks and then highlights those risks in a report, our flood assessors went through the properties with the homeowners and then produced a specialized report focusing solely on the flood risks both inside and outside people's homes.
"What this yielded was a load of important insights on: What are the top flood risks both inside and outside the home? And, what are the top maintenance risks inside the home? Instead of having brokers go through the report, which is over 70-pages long, we've transformed our research into an easy-to-understand content list, which brokers can gain access to in our new flood training course. The fifth module in the course is called: 'How can insurance brokers help the client to protect their home from flooding?' Within that module, we list all of our free resources that we've actually tested in-person with homeowners."
These types of resources, whether it's a data report from the Intact Centre, an advisory from an association, or a tip sheet from a carrier, are gold dust to insurance brokers during flood season. There's a lot of talk about flood maps being updated, and a lot of homeowners are worrying about their insurance or the potential for premium increases – all at a time of great uncertainty amid COVID-19. The more information, tip sheets and educational material brokers have at their disposal, the more comfortable clients will feel in their flood risk preparation.