What Canadian homeowners need to know about flood insurance | Insurance Business Canada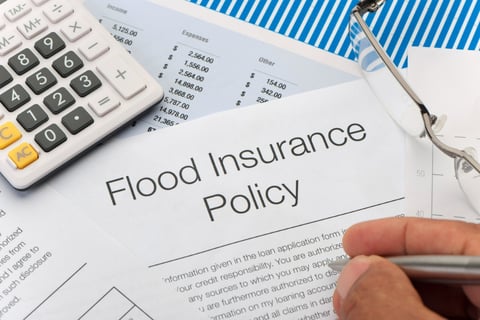 Flooding has surpassed forest fires as the top cause of property damage in Canada in the past several years, costing property owners more than $1 billion in losses each year, according to government figures.
Despite the threat, a recent study has revealed that an overwhelming majority of Canadians living in high-risk regions are not only unprepared to deal with the impact of floods, but they are also unaware of the potential danger.
A 2020 survey conducted by Partners for Action, a climate resiliency network based at the University of Waterloo, and insurance firm The Co-operators, found that out of the 2,500 respondents living in designated flood-prone areas, 94% did not know they were living in such an area and more than half, or 57%, did not have flood insurance. For the remaining 6% who were aware of the flood-risk in their communities, only about 30% had taken action to protect their homes.
The researchers did the same study in 2016 and they were concerned that even after four years had passed, the results remained largely unchanged.
Read more: Many Canadian homes not prepared for the risks and costs of severe flooding – report
"It shows us a concerning lack of awareness of Canadians of the risk for flooding," Shawna Peddle, program director of sustainability at The Co-operators, told The Weather Network. "We had hoped that there would have been a change in the awareness, but we're not surprised."
Peddle added the lack of awareness could also be a result of the respondents' lack of personal experience with a flood event.
"You may live in a high-risk zone, but nothing's ever actually happened to you personally," she said. "People might not just be aware. It may not be on their radar."
According to the survey, the average cost of claims for flood damage to a property is around $43,000, but this could go much higher, especially with the pandemic pushing more people to work and study at home as this also means an increase in the number of high-end electronic equipment and office furniture in their residences, which could worsen the financial impact of floods.
The report also shares tips on how homeowners can protect their properties from flooding, but one thing that Peddle strongly advises is that people talk to their insurance providers to determine their exposure and get the coverage they need.
Read more: Experts weigh in on current flood risk measures
What does flood insurance cover?
A comprehensive home insurance policy, which is one of the most popular types of insurance, typically provides coverage for water damage caused by a burst pipe or leaking appliances, according to the Insurance Bureau of Canada (IBC). However, the association noted that water damage to a property can result from several other incidents beyond the ones standard insurance covers.
Stefan Tirschler, product and underwriting manager for Square One Insurance Services, warned that contrary to what most consumers may think, flood is not a "catch-all term" for all forms of water damage when it comes to home insurance.
"People often use the term 'flood' to refer to water that is somewhere they don't want it to be – no matter where it came from," he told digital finance magazine MoneySense. "Usually, the [insurance] industry will use terms like 'overland flood' to refer to widespread flooding events that are specifically caused by rain, melting snow, or the overflow or breaking out of water from a dam, river or lake. This is what we mean by 'flood' in the home insurance world, and it is generally not included by default [in a home insurance package]."
Read more: Flood is still a "very complicated risk" for insurers – IBC
According to the IBC, there are two types of add-ons that policyholders can purchase to protect their homes from flooding:
Sewer backup coverage: This covers for water damage resulting from a blockage in the main sewage line causing wastewater to reverse direction and flow up into the home. A few insurers include this type of coverage in their standard comprehensive home insurance policy, but most offer it as an add-on.
Overland flood coverage: This provides protection against damage caused by overflowing bodies of water – including lakes, rivers, and ponds – heavy rainfall, and melting snow.
Insurance companies do not typically offer coverage for floods caused by storm surges, tsunamis, or tidal waves, according to IBC's website, but financial comparison site Ratehub.ca says The Co-Operators currently provides protection against damages resulting from storm surges or coastal flooding – the only insurer doing so in Canada.
Read more: What's the leading type of flooding in Canada?
How much does flood insurance cost?
Most Canadian homeowners can purchase overland flooding insurance for between $100 and $300 annually, according to the IBC. Policyholders living in flood-risk areas can expect to pay $500 to $1,000 a year. But with climate change causing extreme weather conditions to increase in frequency and magnitude, the bureau is concerned that the situation could push premiums to unaffordable levels.
"We've been tracking insurance payouts for severe weather events – things like storms, fires, floods – going back to the 80s," Aaron Sutherland, vice-president of Western and Pacific at IBC, told The Globe and Mail. "It's important to treat those weather events as a trend, rather than a fluke."
"Where the industry used to just pay out a few hundred million dollars annually for those claims, more recently that number has ballooned to more than $2 billion each and every year just for claims associated with a changing climate," he added.
Read more: Flooding claims see 6X spike in three years – Aviva Canada
List of Canadian insurance providers offering flood insurance
Ratehub.ca has compiled a list of insurers offering flood insurance policies across the country. Most of these companies provide water damage coverage for burst pipes as standard inclusion in their comprehensive home insurance policies, while sewer backup and overland flooding protection are offered as an add-on. The following is correct as of December, 2021:
Insurer

Standard coverage

Add-on

Water damage from burst pipes, leaking appliances, storm waters, spring thaw, accumulated rain, and other types of freshwater flooding with limitations

Enhanced water damage, including sewer backup, water overflow from freshwater, heavy rain, or groundwater for all eligible customers
Limited sewer backup for damage caused by the escape of water from a sewer, drains, sump pit or septic pump for Alberta, New Brunswick, Nova Scotia, and Ontario residents
Groundwater, sewer water, and overflow of a body of water for Québec residents

AMA Insurance

Damage from burst pipes, leaky appliances, wind, and hail

Enhanced water endorsement includes water damage resulting from certain types of sewer backup, surface water and torrential rain
Enhanced water damage, includes sewer backup, water overflow from freshwater, heavy rain, or groundwater

Water damage from burst pipes

Sewer backup endorsement available across Canada
Overland water endorsement for Alberta and Ontario residents who have purchased sewer backup endorsement

BCAA Insurance

Water damage from burst pipes

Sewer backup endorsement flood rider caused by freshwater overflow and heavy rain or snowmelt

Water damage from burst pipes

Enhanced water endorsement protects against water entering the home from entry points such as window and doors for Ontario residents

Commonwealth Mutual

Water damage from burst pipes

Water Plus endorsement includes flood and sewer backup coverage based on the level of risk for Ontario residents

The Co-operators

Water damage from water escape, burst pipes, leaking appliances, and water entering the home resulting from an opening caused by an insured peril, freezing within heated portion of the home, and ice back up

Comprehensive Water coverage protects against loss or damage caused by water, septic, or sewer backups; storm surge; waves and spray when resulting from a storm or hurricane; overflow of any natural or man-made body of water; surface water; and rising water table

Water damage from burst pipes

Groundwater and sewer backup coverage depending on the risk level. Coverage may be available as standard inclusion.

Water damage from burst pipes

Sewer backup coverage for Ontario residents
WaterEscape Plus covers overland water and sewer backup for Ontario residents

The Guarantee Company of North America

Water damage from burst pipes and sewer backup

H20+ covers damage from freshwater flooding, groundwater, and surface water

Intact Insurance

Water damage from burst pipes

Enhanced water damage endorsement covers sewer backup, septic system failure, sump pump or drain failure

Optimum General

Water damage from burst pipes

Sewer backup coverage
Overland water coverage for British Columbia and Ontario residents

Pembridge Insurance

Water damage from burst pipes

Sewer backup and overland water coverage

The Personal Insurance

Water damage from burst pipes

Ground water coverage
Sewer backup coverage
Overland water coverage may be included in standard policy depending on risk

Water damage from burst pipes and leaking appliances

Waterproof coverage includes storm and flooding activity not related to saltwater, tsunami, or coastal flood

Square One Insurance

Water damage from burst pipes and leaking appliances and water entering the home resulting from an opening caused by an insured peril

Overland water and sewer backup coverage

State Farm Canada

Water damage from burst pipes

Ground water, sewer backup, and overland water coverage

Water damage from burst pipes

WATERtight policy covers flooding caused by overland water and sewer backup
Source: Ratehub.ca