How climate change is impacting home insurance rates in Canada | Insurance Business Canada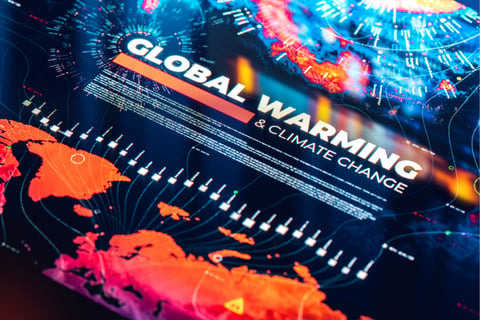 A recent federal government report has revealed that Canada's climate is warming at a rate twice the global average – a trend that researchers say is "effectively irreversible" and will continue in the future. The situation has already resulted in an increase of catastrophic weather occurrences in the past few years, putting the insurance industry in a precarious position as weather-related losses continue to mount.
Figures from the Insurance Bureau of Canada (IBC) show that Canadian insurance companies spent an average of $2 billion each year on losses related to natural catastrophic events – or those resulting in at least $25 million in insured losses – between 2009 and 2020, more than four times the yearly average of $422 million from 1983 to 2008.
At this rate, experts say that covering for such losses is "becoming completely unsustainable."
A recent report from financial services firm DBRS Morningstar predicts that insurance providers may start to withdraw property coverage in areas deemed too costly, or worse, avoid insuring certain risks altogether, if circumstances do not change. This could put tremendous financial pressure on the government.
Read more: Climate change, catastrophes and why hands are tied on home insurance
How is climate change impacting Canada's insurance industry?
With climate change causing extreme weather conditions to increase in frequency and magnitude, many insurance industry insiders are concerned that the situation could push premiums to unaffordable levels.
Using data from the IBC, Public Safety Canada, Cat IQ, and local media reports, Reuters recently released a list of the largest natural catastrophes in the country in terms of insured losses. Interestingly, eight of the 10 calamities in the list have occurred in the past decade when the effects of climate change have been increasingly felt. The list does not include this year's massive flooding in British Columbia as insurance loss estimates are still not finalized, although industry experts expect the damage to be significant.
| | | |
| --- | --- | --- |
| Date | Disaster | Insurance losses |
| May 2016 | Wildfires, Fort McMurray, Alberta | $3.58 billion |
| June 2013 | Floods, southern Alberta | $1.7 billion |
| January 1998 | Ice storms, Ontario and Québec | $1.3 billion |
| June 2020 | Hailstorm, Calgary, Alberta | $1.2 billion |
| July 2013 | Floods, Toronto, Ontario | $940 million |
| May 2011 | Wildfire, Slave Lake, Alberta | $700 million |
| May 2018 | Windstorm, Ontario and Québec | $680 million |
| August 2005 | Tornado, floods, Toronto and southern Ontario | $625 million |
| April 2020 | Ice jams, floods, Fort McMurray | $562 million |
| August 2014 | Hailstorm, Airdrie, Alberta | $450 million |
Source: Reuters
Read more: Insurers must consider climate change when tackling flood risk
How is climate change affecting home insurance rates in Canada?
Canadian homeowners are among those feeling the brunt of climate change's financial impact. In the past decade, average home insurance premiums have jumped more than three times the rate of inflation as personal property damage claims rose 42% across the country, according to a recent analysis by financial comparison site RATESDOTCA.
During the period, Alberta registered the largest increase in home insurance, with average rates rising 140% from $741 in 2011 to $1,779 April this year. Ontario premiums also experienced a significant ascent, climbing 64% from 2011's $782 to $1,284 in April. The inflation rate over the past 10 years is less than 17% based on Bank of Canada figures.
"To those who argue the costs of taking stronger action against human-caused climate change are too expensive, consider this: the costs of inaction have been rising for Canadian homeowners every year," wrote Jameson Berkow, managing editor of RATESDOTCA, in his analysis.
Berkow cited IBC data that showed total net claims from personal property damage nearly tripled in more than two decades from roughly $2.3 billion in 1996 to almost $7.2 billion in 2019.
"For a more apples-to-apples comparison, consider the most recent 10-year period from 2009, when personal property claims across Canada totaled $5.1 billion. That figure grew by more than $2 billion, or 44%, over the following decade, or approximately three times faster than inflation," he added.
"That can only be the result of an increasing number of homes across Canada suffering increasingly expensive damage and/or destruction every year. As the increasing effects of climate change mean property-damaging extreme weather events will become more common and more powerful, that would seem to be the most likely explanation for rapidly rising Canadian home insurance costs."
Read more: Revealed – Ontario's most and least expensive cities for home insurance
How can Canadian homeowners protect themselves from climate change-related risks?
To help homeowners keep future premiums low, Berkow also shared tips on how they can prevent making weather-related claims. Here are some of them:
Consider installing a back water valve or sump pump in the basement of the home. Informing insurance providers about this can also help homeowners earn a discount.
Install smart water detectors, which instantly detect when water seeps through the home. This not only helps safeguard the home from flood damage but could also result in a discount.
Regularly clean your gutters and pipes.
Adjust downspouts away from the home and on to the street.
Clearing just five feet of vegetation around the house can halve the risk of the home being destroyed by a wildfire.
Use impact-resistant materials for the roof, especially if the home is in a hail zone.
Avoid planting coniferous trees as these are easily flammable. Consider planting deciduous trees instead.
Prune weak or dead tree branches as these could cause debris damage, especially if there are strong winds.
Get water flooding coverage included in your policy. Most providers require this to be purchased separately.