Far from the Munn-dane | Insurance Business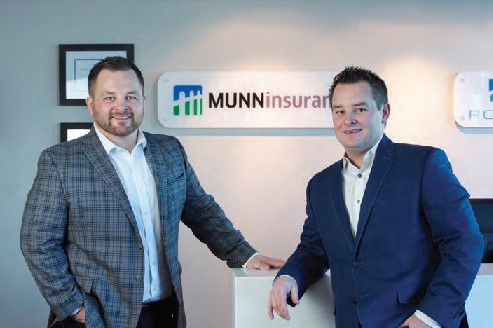 IBC: Munn Insurance has been around for over a century. Tell us how your brokerage got its start:
Adam Nolan: Munn Insurance started in the early 1900s. At the time, many local merchants supported the fishing industry. We were one of those merchants specializing in cod liver oil. We got our start in insurance by handling our own insurance needs – so we were our very first customers! We demanded value and as an insurance provider, we delivered. We soon started offering insurance to others. Our customer focus became part of our DNA and continues to guide the business to this day. Today, we are one of Newfoundland's largest independent insurance brokers, with about 100 employees across six offices, providing expert advice and services to over 30,000 customers.
IBC: What does your brokerage do to support the wellness of employees?
CJ Nolan: We have done a lot to establish a culture where health and wellness are promoted and encouraged. By fostering an environment where employees, and their families can thrive, we drive a more collaborative and engaging culture. So, we invest heavily in employee wellness. We provide the very best benefits program, which includes a gym membership, and we organize family events that are related to active living, from softball tournaments to rock climbing. Last year, we sponsored an employee instantiated Weight Watchers program in which 20 people collectively lost over 800 lbs.! We also sponsor an annual 20k race called the Cape to Cabot, and encourage involvement from our employees.
IBC: How does Munn Insurance keep up a competitive advantage?
AN: In 2016, we created our five-year strategic plan called our 2020 Vision. It was a very collaborative and open process with our customers and employees. It was this planning that guided our top priorities of Customer-People-Results. As a result, we are focused on delivering for our customers, our people and then, and only then, driving results. We invested heavily into IT to add value for our customers, such as launching a new digital experience and online quote capabilities. Munn also handles all underwriting and claims in-house for our personal lines book with Aviva, which gives us a unique advantage for our customers.
IBC: In what ways are you involved in the community?
AN: We have always been active in our community, and giving back to the communities in which we live and work. We are active in health care and the children's hospital where we are major sponsors. We are big supporters of the Ronald McDonald House, the Bliss Murphy Cancer Care Foundation, and we sponsor events such as the Mount Pearl Frosty Festival and the Royal St John's Regatta. Munn also sponsors the Future Goals Scholarship aimed at assisting youth associated with Mount Pearl Soccer with two $2,500 scholarships each year.
IBC: How has Munn Insurance overcome recent challenges?
CN: We are strategic and forward thinking, so we don't wait for stuff to happen – we anticipate and plan. We have a strategic plan that sets our course and points us in the right direction. For example, we see the impacts of big data and how all things internet are changing insurance. Munn has done a great job at being agile and staying ahead. We hire experts, people that understand this new world, and we have partnered with leading businesses that know the digital world very well. We don't wait for stuff to impact us. We get a head of it with a smart, well-reasoned strategic plan and execute it.
IBC: What are your goals for 2017?
CN: Our priorities are Customer-People-Results, so we are looking to continue to add value for our customers by delivering world-class service, and enhance the strong culture and employee engagement at Munn so that our people are proud and love it here. And with those two priorities looked after, we want to drive the business results. Our strategic plan helps us reach those results. We are just moving into the second year of our plan, having outperformed our year-one targets. Last year, we focused on strengthening our foundation and 2017 is about testing and learning as we launch several new and exciting initiatives, while making incremental improvements along the way. With this, we are expecting our profitable growth plan to accelerate and we are all really excited for what 2017 has to bring.