Finding the funny in insurance | Insurance Business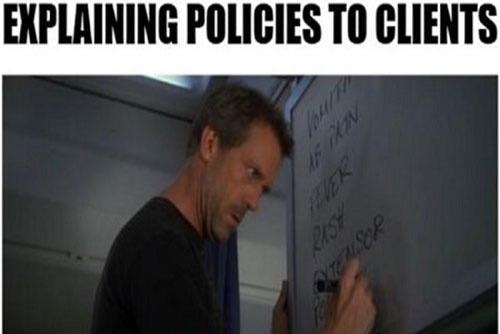 The Insurance Hustle
Insurance isn't necessarily a humourless job, but it can have its tough moments – whether that's advising clients on the right insurance solution for their small business, informing them of increases in their auto insurance premiums, or helping them get back on their feet following a natural catastrophe.
One insurance professional, who shall remain nameless to protect their identity, is working to inject some laughs into the industry. With over 2,300 followers, The Insurance Hustle is a LinkedIn account devoted to memes about the world of insurance, tackling everything from tricky client interactions to working with adjusters and underwriters, and all the other joys of having a career in the sector.
The hidden administrator behind the LinkedIn account relies on their personal experience in the industry when crafting the perfect meme.
"Like so many people in our industry, I didn't plan to be here. I spent most of my career in sales roles and was welcomed into insurance after being laid off from a support-type gig in a small office. I had exactly zero experience in insurance but tons of soft skills and a pile of bills to be paid, so I took a chance and it paid off," said The Insurance Hustle's fearless leader.
Joking about the day-to-day hurdles of a job in insurance with their colleagues was the inspiration behind the account.
Read more: Social media savvy broker brings more value to his clientele
"Insurance is serious business. Dealing with it all day can be mentally exhausting. Constant changes, heavy regulations, and a hardening market only add to the dryness. The folks at our company tend to lay the humour on thick to keep it exciting and deal with stress," said the account administrator. "A couple of colleagues and I talked a few times about how we wished we could share some of our laughs across the industry, but it wouldn't exactly be professional to send our clients a bunch of memes. So, with a similar LinkedIn account that creates sales memes in mind, I started up The Insurance Hustle."
For this insurance professional, meme ideas come from many sources, including experiences they've had in this role or past positions, situations co-workers have been in, industry buddies sharing stories at conventions, and even some of the age-old industry grievances and anecdotes all insurance professionals have heard throughout the years.
"Anything can be funny when humour is your primary defence mechanism," they told Insurance Business, though the admin added that finding humour in this business isn't always easy.
"Insurance is a hard reality in itself. It's not a 'nice to have,' it's a 'need to have' as dictated by the government, your bank, etcetera," they said. "One of the biggest issues for our industry, I believe, is the negative connotation attached to such necessities (like taxes or exercise). When someone is unfamiliar with the why, they will fail to see the benefits and only see the burden. Taxes are necessary for proper infrastructure, exercise is necessary for a healthy lifestyle, and insurance is necessary to protect you. It's so common to see insurance sold with the 'you have to buy it, or else' mentality. Perhaps we could try to focus more on the 'here's how we cover your ass' message."
With the number of page followers growing, The Insurance Hustle has hit on a key need for many professionals in the industry – the ability to find humour in difficult situations.
"The Insurance Hustle is basically an art project that grew legs. When making the first posts back in April, I imagined maybe one day it might have a whole 1,000 followers, so it's already far exceeded any expectations," said the administrator. "The goal now is to just keep the laughs going. The account has an audience across multiple continents, from a wide range of ages and backgrounds – it's amazing to know you can spread a smile that far with a simple meme. So, as long as I have fun material and the giggles keep coming, I'll keep posting."