Jump to winners | Jump to methodology | View PDF
THE SKY IS THE LIMIT
This year's IBA Elite Women are on top of the world. Whether setting sales records, landing seats in the C suite or mentoring other women to excel, they have distinguished themselves in a business long regarded as employing an abundance of old men.
In 2021, after a whirlwind of a year, things are still changing. Over the next few years, approximately 400,000 employees are set to retire from the insurance industry, according to the US Bureau of Labor Statistics, freeing up opportunities for young women to take on leadership positions.
But at the same time, the pandemic has forced 2.3 million women from the general workforce, according to the National Women's Law Center, pushing women's labor participation rate to a low not seen since the late '80s. Due in large part to a lack of childcare options, women have been forced to leave the workforce – according to Accenture, nearly a third of women in the insurance industry left their jobs during the pandemic. If they don't return, McKinsey & Company estimates it could set women's equality back by six years.

From 'the only' to one of many
Despite the current ebb in the labor market, the past year's social justice protests have brought the importance of diversity, equity and inclusion (DE&I) to the forefront of the corporate zeitgeist.
"Recent events have caused an awakening around the industry," says Rebekah Ratliff, founder and president of Capital City Mediations and one of this year's Elite Women. "Companies are actively deploying DE&I initiatives to break down some of the infrastructure that has enabled inequity practices, making a positive impact on the increase of diverse talent in the industry."
When Ratliff began her career in insurance claims, she was the only African American woman in the office. Very few people looked like her, she says – let alone those in leadership positions.
"I learned to stay out of my comfort zone, to do my work and never stop learning," Ratliff says. "I moved through my 25-year career, never turning down the opportunity to learn more. Now that the pieces of my career puzzle have come together, I see that my intentionality paid off, literally."
Today, the lack of diversity in the insurance industry mirrors other industries due to systemic racism and majority privilege, Ratliff says, noting that structural racism and gender bias have delayed the advancement of women and people of color in the industry.
For young women just beginning their insurance careers, Ratliff encourages them to seek out mentors and work with integrity to build mutually beneficial relationships inside and outside the industry. To create a more inclusive industry for women, Ratliff says it's important to embrace, implement and execute on what she refers to as "the three ships": mentorship, sponsorship and allyship.
"Women in the industry need to be more intentional about building together and focus on empowering the next generation," she says. "Ally is a noun in the dictionary, but when put into practice, ally is a verb."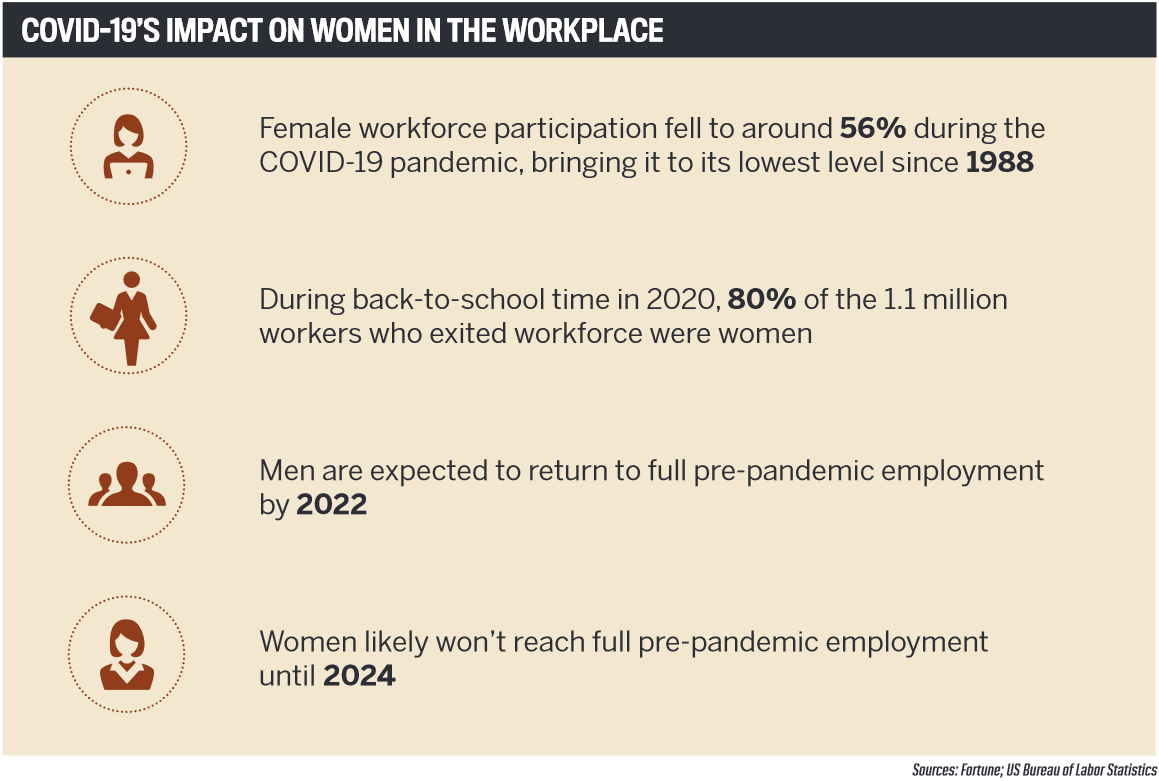 Let us all rise
That sentiment resonates with Brigitte Egbert, the executive vice president and co-managing partner of Monarch Insurance Services, an Acrisure Agency Partner, and a 2021 IBA Top Producer.
"Over the course of the last year, I, in collaboration with the Monarch leadership team, helped the agency grow top-line revenue by over 10% while simultaneously expanding profit margin by 5%, increasing earnings of nearly 30%," Egbert says. She did this while managing a portfolio of Hawaii's top financial and educational institutions, real estate owners/developers, social service agencies, auto dealerships, professional employer organizations, condo associations, restaurant owners, and other businesses.
Along the way, Egbert has realized the importance of setting and, where possible, surpassing goals.
"I encourage those around me to set goals without a ceiling, ask confidants to hold them accountable, seek constructive feedback, continue asking questions and to share ideas often," she says. "I learned the value of team play as a child when my mother pushed me into competitive sports at age 8. I quickly developed a love of pushing myself to be my very best and being a strong, integral member of the team, both professionally and personally. I strive to perform at a level of excellence consistently, with particular focus in difficult/stressful scenarios. I believe I am at my best when I'm at the crux of any challenge. That said, I believe in constantly developing and challenging myself through learning and mentorship and credit much of my success to the formidable mentors I have had the privilege of working with along the way."
Egbert acknowledges that today's insurance professionals – both women and men – have many challenges to confront, from the pandemic to the hard market.
"Another critical challenge facing the insurance industry today is the age within our industry," she says. "We have a massive opportunity to engage the next generations and transition our intellectual and institutional capital over the next several years."
In the meantime, Egbert believes there are some things the industry could do to make it more inclusive for women, including clarifying people's perceptions of one another, encouraging collaboration among men and women, and encouraging women to support other women. She also believes the industry needs to do more to get the media, markets and brokers to recognize the issues facing women and seek ways to sponsor and recognize talent.
On that note, Egbert says she trusts in the power of vulnerability to endear people to one another and empower them so they don't feel alone. Women should share their knowledge and experience with others, she says, and women, especially young ones, should ask other women for help.
"Women can do so much for each other by mentoring and sharing their knowledge as we advance together to a brighter future," she says. "To paraphrase a familiar quote, when a woman rises up in glory, her energy is magnetic, and her sense of possibility is contagious. Let us all rise!"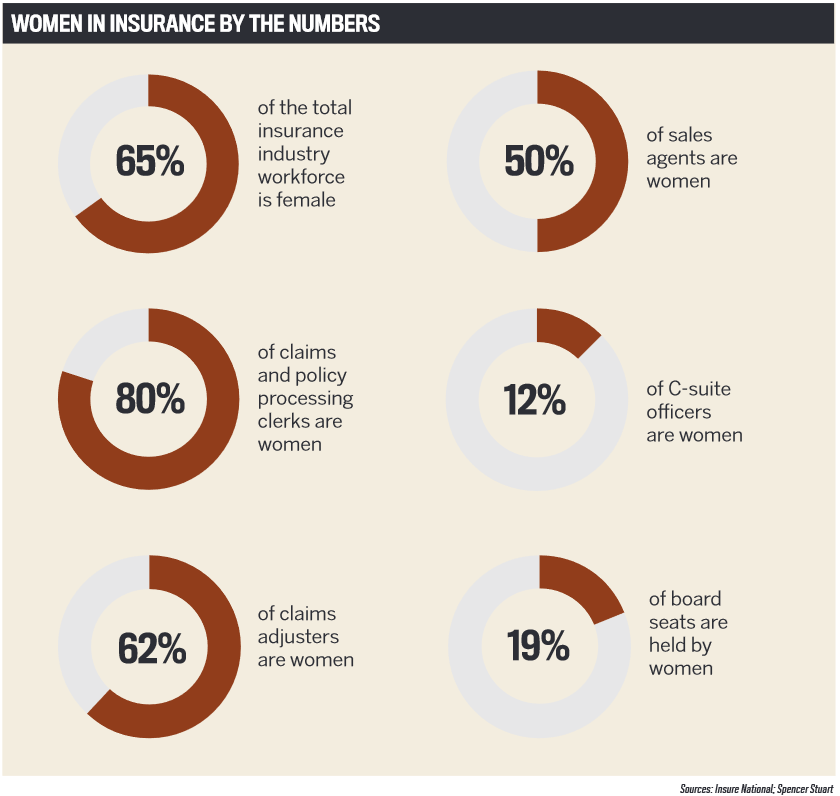 Bain Head


Executive vice president, CAC Specialty

Bonnie Boone


Executive vice president, Gallagher

Brigitte Spencer


Director, customer service center (sales) and personal lines operations, The Hanover Insurance Group

Candace Rhea


Executive team lead, The Hartford

Celia Santana


President, Personal Risk Management Solutions

Chaya Cooperberg


EVP, chief people & communications officer, AmTrust Financial

Cheri Amaro


Chief operating officer, The Liberty Company Insurance Brokers

Christine Chandler Tillett


Risk management and human resources manager, Charles Dunn Company

Christy Kaufman


Head of strategy, governance and compliance, American Family Ventures

Cyndi Doragh


Senior executive, Iron Ridge Insurance Services

Dale Sharpe Jenkins


Agency principal and founder, The Jenkins Agency

Denise Perlman


Executive vice president, business insurance & national partnerships, Marsh & McLennan Agency

Heather McMahon


Vice president and claims manager II, Erie Insurance

Jane Hahn


Managing director, Beecher Carlson

Jennifer Guidry


Small commercial book consolidation underwriting director, The Hartford

Julia Sauceda


Senior vice president, RT Specialty

Kari Dybdahl Kohal


President, American Risk Management Resources Network

Karin Venegas


Managing director – business insurance, Higginbotham

Katherine Richardson


EVP, chief human resources officer, PURE Insurance

Kerri Hamm


Executive vice president, client executiveMunich Reinsurance America

Kim Beach


Founder and CEO, InsureWomen

Kimi Barnes


Managing director – excess casualty, Travelers

Kristin Kraeger


Managing director, Aon

Laura Foggan


Partner, Crowell & Moring

Lianna Kinard


Vice president of marketing, The Buckner Company

Lorrie Baldevia


Agency COO Assured, Partners

Madelyn Flannagan


Vice president of agent development,research and education, Independent Insurance Agents and Brokers of America

Margaret N. Redd


Executive director, National African American Insurance Association

Meg McKeen


Founder and chief confidence builder, Adjunct Advisors

Montrae Williams


Head of P&C claims sales and service, The Hartford

Ngozi Nnaji


Founder, Ako Brokerage Services

Nicole Gunderson


Managing director, Global Insurance Accelerator

Pamela Humphrey


Senior vice president, Chubb

Ranjini Pillay


Vice president, credit & structured products group, Crum & Forster

Rebekah Ratliff


Founder/president, Capital City Mediations

Sha'Ron James


Partner – government and regulatory team, Berger Singerman

Shannon Groeber


Executive vice president, CFC Underwriting

Susan Comparato


Senior vice president of US operations,Argo Group

Sylvia Ornelas


Associate vice president; director, personal insurance, Burns & Wilcox

Teresa Cazares


Managing director, Beecher Carlson

Terry-Dawn Thomas


Managing attorney, Zurich

Tiara Morris


Executive underwriter, Chubb

Tina Anderson


Market head of community activation, Aetna, a CVS Company

Valorie Owens


Vice president of business development, Sayata Labs