Revealed – 2022's top Canadian condo insurance providers | Insurance Business Canada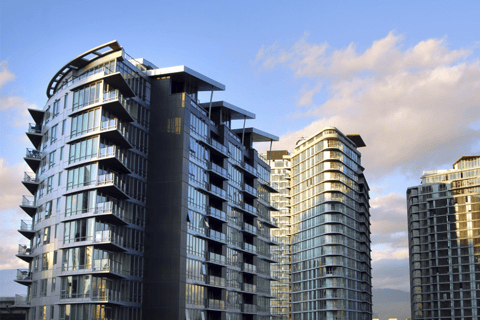 Condominiums have become an increasingly popular dwelling of choice for families in Canada's largest cities, with almost 1.9 million households opting for high-rise living, according to figures from the latest census. The number accounts for about 13% of all Canadian families and illustrates a waning appetite for a suburban lifestyle among the millions of residents of the nation's biggest metropolitan areas.
Vancouver boasts the country's highest percentage of condo dwellers, making up almost a third of its population. Calgary ranks second with about 22%. Abbotsford-Mission, Kelowna, Toronto, and Edmonton follow, with about a fifth of each city's households favouring condo living. Victoria, Saskatoon, Montréal, Québec, Ottawa-Gatineau, Guelph, and Regina also have figures above the national average.
As the preference for the high-rise lifestyle grows, insurance providers have also stepped up efforts to come up with products tailored to the unique needs of Canada's condo dwellers.
How does condo insurance work?
Condo insurance, also known as strata insurance in British Columbia, is a type of home insurance policy that protects the owners against damages to the unit's interior and its contents, and from liability for injuries that occur within it. This kind of coverage differs from condominium corporation insurance, which covers the building's structure outside of the unit – including common areas like lobbies, hallways, stairwells, and elevators.
Read more: Many policyholders don't understand their condo insurance – IBC
Condo dwellers often already pay for common area coverage through their condominium fees. To have personal condo coverage, however, they need to purchase the policy themselves. The purpose of personal condo insurance is to fill the coverage gap that condominium corporation policies leave.
What does condo insurance cover?
Condo insurance provides coverage for the owner's personal belongings and the interior of the unit. It also covers damage to other units resulting from incidents originating from the policyholder's property. This means that if a fire from their unit causes damage to a neighbouring property, condo insurance will pay out the cost.
Apart from these, standard coverage may include:
Damage to improvements made to the interior of the unit
Electrical or fire damage
Incidents of theft and burglary
Loss assessment
Living expenses, if the unit becomes unhabitable
Personal liability
Storage lockers
Vandalism
Wind and hail damage
Condo insurance also provides protection from some types of water damage, including those resulting from burst pipes and leaky appliances from a neighbouring unit. This policy can be extended to cover heavy rainfall, overland flooding, and sewer back-up. Coverage for identity theft and valuable items such as jewellery and artworks can also be purchased as an add-on.
Read more: Controversial pricing method responsible for runaway condo insurance costs - report
Most personal condo policies, however, do not cover normal wear and tear of the unit, and damages caused by animals, or those resulting from war and terrorism. Flood cover may also be excluded if the unit is in a flood-prone area. Intentional losses and those arising from fraudulent and criminal activities are not covered as well.
How much does condo insurance cost?
Just like with other policies, insurance providers base the premium prices of personal condo coverage on the unit owner's likelihood of making a claim. Insurers calculate this probability using a range of factors, including the condo's age, geographic location, market value, construction materials, improvements and renovations done, replacement costs of the insured contents, and the type and amount of coverage needed.
Read more: Condo insurance rates in Canada – what's happening?
The table below shows a sample calculation from the real estate marketplace WOWA.ca regarding how much premiums cost for a two-bedroom condo in four of Canada's major cities. The figures are up to date as of February 2022.
| | | | | |
| --- | --- | --- | --- | --- |
| City | Size | Location | Estimated monthly premiums | Estimated annual premiums |
| Toronto | Under 1,000sqft | Downtown Toronto (Intersection of King St. W & John St.) | $32 | $384 |
| Vancouver | Under 1,000sqft | Downtown Vancouver (Intersection of Homer St. and Nelson St.) | $27 | $312 |
| Calgary | 850sqft | Downtown Calgary (Next to Central Memorial Park) | $23 | $276 |
| Edmonton | Under 1,000sqft | Downtown Edmonton (Next to Canadian Western Bank Place) | $22 | $264 |
Source: WOWA.ca

What do Canada's top condo insurance policies cover?
Condo insurance policies differ between insurance providers and determining which one offers the best coverage often depends on the specific needs of a unit owner. Here is what Canada's top home insurance companies are providing in terms of condo coverage. The list is arranged alphabetically. All details are correct as of March 2022.
Insurer/Policy

Key coverage features

Allstate Canada Condo Insurance

Basic coverage:

Contents for named perils (subject to exclusions specified in the policy)
Optional replacement cost (replaces contents with items of similar value, without depreciation)
Claim-free discount

VIP Package:

All risk coverage for contents (subject to exclusions specified in the policy)
Replacement cost (replaces contents with items of similar value, without depreciation)
Claim-free discount
Claim forgiveness
Disappearing deductible
One free personalized option

Aviva Canada Condo Insurance

Standard coverage:

Contents of the unit
Upgrades to the unit, such as new flooring
Personal liability of at least $1 million

Optional:

Water protection, covering sewer back-up and overland flooding
ID theft
Earthquake insurance
Claims-free discount
Disappearing deductible

BCAA Condo or Townhouse Insurance

Standard coverage:

Fire and smoke
Crime and vandalism
Personal liability
Water damage
Building improvements
Strata coverages
Additional living expenses
Unit additional protection

Optional extras:

Earthquake coverage
Increased strata coverages
Extended water coverages include damage caused by external drains, overflow of fresh water, and accumulation of surface water
Short-term rental coverage

Belairdirect Condo Insurance

Personal property
Immovable parts of the unit
Improvements made
Personal liability
Additional living expenses
Voluntary medical payments
Voluntary payments for damage to property
Water damage (optional)

CAA Condo Insurance

Standard coverage:

Fire damage
Smoke damage
Water damage

Additional coverage:

Home equipment breakdown
CAA tire coverage
Legal expense insurance
Identity theft

Co-operators Condominium Insurance

Improvements and betterments
Common property assessments
Unit insurance
Deductible protection coverage
Additional coverage includes watercraft, bicycles, and jewellery
$250,000 to $2 million limits

CUMIS Condominium Insurance

Personal property or contents
Personal liability
Building or unit upgrades
Additional living expenses as part of an insured loss
Amounts needed to be paid towards a deductible or claim under the condo corporation's policy
Identity fraud coverage
Extended water coverage for damage caused by drains and sanitary systems
Disappearing deductibles
Home claim forgiveness feature
Flexible payment methods

Desjardins Condo Insurance

Liability coverage
Fire, theft, and vandalism
Water damage, including accidental water leak or overflow
Storms and natural disasters, including tornadoes, freezing rain, wind, hail, and fire, smoke, and explosion after an earthquake
Personal belongings, including building improvements and installation, and loss assessment

Intact Condo Insurance

Maintenance fees
Temporary membership to a health club facility while the unit owner lives elsewhere and is unable to use their condo's facility
Storage locker contents
Umbrella liability insurance (optional)

TD Condo Insurance

All risks coverage for unit and personal belongings
Personal liability
Additional living expenses:
Unit Improvements
Loss assessment
Common areas
Legal and home assistance

Add-ons:

Family coverage includes cyberbullying and parents in nursing homes
Eco-efficient rebuild
Claim forgiveness
Enhanced limitations include coverage for high-value items

Wawanesa Condo Coverage

Collectively owned condominium property coverage
Condominium unit coverage
Condominium unit owner improvements coverage
Condominium deductible coverage