Marsh honours beloved colleague by raising over $500,000 | Insurance Business Canada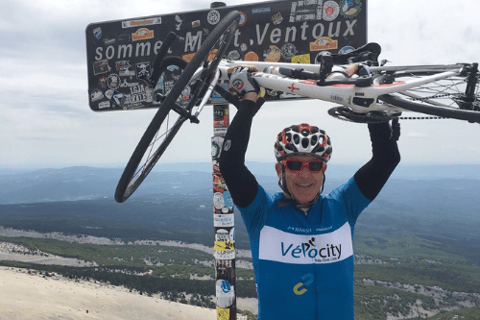 Jim Abernethy (pictured) was a beloved member of the Marsh family for over 30 years and was the brokerage's active CFO until his retirement in January 2019. Shortly after retiring Jim was diagnosed with lymphoma – his battle was courageous but short, as he suffered from an aggressive form of the disease.
Outside of his family and work, Jim was passionate about fitness, with a love for cycling, hockey, and golf.
"His diagnosis came as a shock to everyone who knew the kind of lifestyle he led, and his loss touched many of us very deeply at Marsh," Anton Antonov, SVP and national head of sales and private client services at Marsh Canada, told Insurance Business.
Marsh partnered with the Leukemia and Lymphoma Society of Canada (LLSC) in a quest to create a campaign in Jim's name that would have a lasting impact not just for the Abernethy family and the brokerage giant, but for the entire insurance industry.
Antonov, along with Mike Lewis, the national growth and industry leader at Marsh, were co-chairs with the LLSC in Toronto and worked to launch the 'Jim Abernethy Challenge of Movement' in August, which involved not just the insurance industry but surrounding financial institutions and firms.
"We wouldn't have gone through with the idea if we didn't have the full support of Jim's family - they were incredibly supportive of the idea and got involved," Antonov continued.
The fitness challenge spanned over four weeks from August 19 to September 15, and, using the Strava app, participants were able to record their movements whether they were by cycling, walking, or canoeing. There were over 70 teams involved, over 630 participants and 25 sponsors, spreading from coast to coast.
"The brilliance of the challenge is that you didn't have to be together all in one spot. We felt like a team even if we were separated most of the time," Antonov explained.
The campaign set the initial fundraising goal of $200,000 and within the first week the LLSC received corporate donations of $185,000. By the end of the challenge, donations were received from Australia, Hong Kong, and England. "It was a tremendous success by all measures," said Antonov.
"With such a demand on people's schedules, we were caught off guard with how quickly colleagues in the industry signed up and donated," he said. "The challenge really spread through the power of social media which is so impactful during these campaigns."
"The industry was so important to Jim. They were his community. One of the elements that Anton and Mike highlighted quite early was to not limit the challenge just to Marsh, but to really use this as an opportunity to create meaningful collaboration across the sector," said Neda Pajooman, regional director in Ontario at the LLSC.
Industry partners in the campaign included Intact, AIG, Ecclesiastical, Aviva, Northbridge, Arch, Crawford, Allianz, Travelers, Axis and Zurich, which speaks volumes to the connections Jim formed across the insurance community.
"What this initiative has meant to the LLSC was recognizing how powerful and generous the insurance industry really is," said Pajooman. "We don't have an initiative like the Jim Abernathy Challenge that unites competitors and partners, creating meaning in the industry by coming together. It tells an influential story that we will continue to share."
The Jim Abernethy Challenge has now raised over $500,000 for the LLSC, which will be put towards research and patient support programs.
"We hope to make this an annual event and look to eclipse the mark we set in year one," Antonov added.
"We don't take funding from the government, as it gives us more flexibility to be responsive to different and growing needs. To have initiatives like this be successful, is the fuel to fund research," Pajooman added. "People are looking for hope today more than ever before, this isn't an easy time for anyone, and these events have caused awareness that wasn't there before. The Jim Abernethy Challenge was a homerun in so many ways."
Stats from the LLSC
The Leukemia and Lymphoma Society of Canada is the largest and only not-for-profit dedicated to all blood cancers.
Every 23 minutes a Canadian is diagnosed with a blood cancer.
Today, leukemia is the most diagnosed childhood cancer, lymphoma is third.
Blood cancers don't discriminate on age, gender, or ethnicity, making them the fifth most commonly diagnosed cancer in Canada.
Today, 33% of blood cancer patients do not survive five years after diagnosis.
The LLSC's mission is to cure leukemia, lymphoma, Hodgkin's disease, and myeloma, and improve the quality of life of patients and their families.