Why a hard market has actually worked in this broker's favour | Insurance Business Canada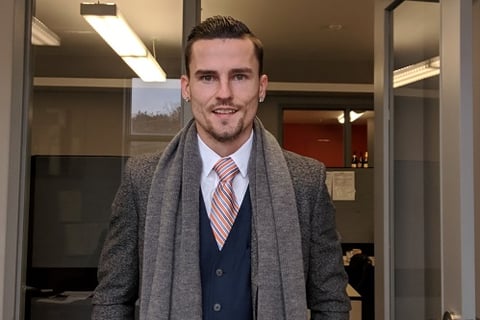 A note to all the insurance companies that set up job fair booths, and host events at university and college campuses: Luke Prominski (pictured) is proof that this strategy works.
"I was taking a general business program at Mohawk College and I was invited to a 'Meet the Grad' event, where business professionals from various industries came and spoke to the students," he told Insurance Business. "From there, I met with a brokerage owner and after a 10-minute conversation, I had a 'Eureka' moment and decided to jump into insurance."
Read more: 'Millennials are looking for new ways of getting insurance'
Prominski always had a knack for sales, even back in elementary school when he peddled candy to his classmates, so, after a bit of research, he decided that a job in insurance sales was the path for him. He started out at a brokerage in Woodbridge, before moving to one in Mississauga, where a few colleagues who became his mentors showed him the ropes. Prominski later went to the direct side where he found professional success, but, after some time, he started looking for a way to move back into the broker channel as a partner or owner.
The insurance professional met Stephen Billyard of Billyard Insurance Group in 2015 at a grand opening of the brokerage's new office in Welland, where the two started chatting about an opportunity at the company. In December 2016, Prominski opened his first branch office for Billyard Insurance and hasn't looked back since.
Read more: How an award-winning broker moulded her career according to her interests
"All of my roles have been learning opportunities to lead me to where I am now," he said, though he doesn't think that an interest in insurance is solely what kept him in the game for this long. "I really think it's more so about taking pride in what we do – the clients [and] being able to speak with different people every single day with different situations. Every day is a learning opportunity and a challenge, as there are thousands of different things you may need insured. I believe, and have always believed, that the clients come first. Being able to sell a product that someone can really rely on, it's essentially someone putting their life's work and assets in your hands to be protected, and there comes a lot of pride in that."
Two of Prominski's key accomplishments since taking on the role of managing partner at Billyard Insurance have been making sure his team members are happy to come to the office, and giving his mom the opportunity to retire from 30 years in healthcare to become a successful broker with over $600,000 in GWP in her first year. Meanwhile, speed, technology, and 'service, service, service' are how the brokerage differentiates itself in a competitive landscape, thanks in part to the precedent set by its leader Stephen Billyard, according to Prominski.
Looking at the insurance industry today, technology in particular has been a positive change that Prominski has witnessed, considering the advancements in this field that all of the markets have been undergoing in recent years.
"They seem to be making it a lot easier to do business with them, whether it be on the personal lines side or the small commercial side," he said, adding that another surprisingly beneficial development has been the hard market in personal lines. "A lot of sales people see this as a negative, but with a hard market, it really comes down to selling a service rather than a price. These clients that stay with you or buy from you during a hard market really show that you have something special. Our annual sales have gone up 31% in our second year, and are on track to jump another 35% to 40% this year."