Biggest Canadian catastrophes of 2020 reveal a significant rise in risk | Insurance Business Canada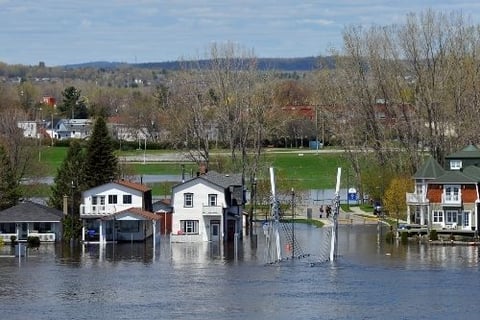 The past year hasn't just been a unique one in Canada due to the pandemic – it's also been an interesting year because of the variety in severe weather we've seen, and the impact events have had across the country. Notably, 2020 was ranked as the fourth highest in insured losses since 1983.
During CatIQ Connect's February webinar, managing director Laura Twidle outlined the major weather events from the past year, and while it may be hard for many of us to remember what exactly happened in January 2020 when we were living out the last few blissful weeks of our pre-COVID existence, the CatIQ database never forgets.
"Temperatures in southern Ontario rose to a record-breaking 10 to 15 degrees Celsius on January 11, and there was more than 16 millimetres of rain that fell in some places, and even 78 millimetres in Toronto," said Twidle. "To put this into perspective, Environment Canada issues a rainfall warning in the summer generally when 50 millimetres of rainfall is expected to fall in less than five hours. That was 78 millimetres in Toronto in a day and a half, during the winter when the ground is frozen."
Ontario's French-Canadian neighbours didn't fare much better, with Montreal, which already had eight centimetres of snow on the ground, getting temperatures of seven degrees Celsius on January 11 and an additional 40 millimetres of rain. Quebec City, meanwhile, had 17 centimetres of snow on the ground, and while the city didn't get quite as high in temperature, it still saw 25 millimetres of rain, followed by another 25 centimetres of snow.
Read more: Climate-related catastrophes shaved billions off of Canada's GDP – report
The impacts of these events were, as expected, significant. Twidle highlighted the fact that bodies of water in the two provinces overflowed, leading to flooded basements and roads. There was also ice pellets and freezing rain, and many tree limbs were downed around the Greater Toronto Area (GTA, alongside 125,000 Hydro Quebec and thousands of Hydro One customers that were left in the dark. Overall, this event caused more than $97 million of insured loss.
The west coast likewise had its own rainfall trouble during the winter season, with flood damage and windstorms wreaking havoc on Vancouver at the end of January. Jumping to April, an ice jam that occurred on the Athabasca River near Fort McMurray and that was then pushed into the Clearwater River resulted in approximately 13,000 people being evacuated. "That was deemed a 100-year flood event by Alberta officials," noted Twidle. "Water levels fluctuated throughout the week, but the decline really started on April 29."
The rest of 2020 brought even more CAT events. A hailstorm in Calgary caused an immense $1.3 billion in insured losses, wind and flooding caused significant damage in Edmonton, and thunderstorms brought severe wind and power outages to Ontario and Quebec, to name just a few of the notable CATs.
Read more: Canadian catastrophe marked as one of most severe in North America
"There were a dozen of these events in 2020," said Twidle. "For insurers, they cause significant damage, but they might not reach their internal reinsurance thresholds, so [insurers] do feel the brunt of these as well."
From the four quarters of 2020, three resulted in above average CAT losses, in comparison to data from 2008 to 2019, according to the CatIQ database. Q3 was the one quarter that fell below average, with two significant events in the Calgary and Edmonton areas, though that quarter is typically more active on average, noted Twidle.
Furthermore, while Alberta has tended to be the biggest player historically in terms of insured losses, CatIQ has seen Ontario, Quebec, and other parts of eastern Canada contributing to insured losses more and more over the past few years, thanks to high-impact events.
Read next: IBC reveals massive Ontario storm damage total
As for the insurance lines of business that were most impacted from catastrophes, 2020 broke with tradition. From 2008 to 2019, insured losses from catastrophes mostly impacted personal lines, while commercial and auto shared the rest of the pie pretty evenly, noted Twidle.
However, "In 2020, auto ate a little bit more into that, and commercial really had a much bigger impact on the overall losses, and this really came down to the Fort McMurray ice jam," she continued. "The Fort McMurray flooding in the database is so anomalous, in the sense that no other event has that much commercial loss compared to personal and auto, [due] mainly to the fact that it completely flooded the downtown core."