Broker breaks barriers in Ontario's insurance market | Insurance Business Canada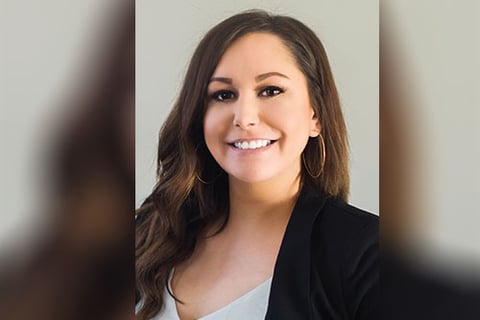 The face of the insurance industry in Canada might now be a 42-year old woman, according to research from the Insurance Institute of Canada (IIC), but that doesn't mean genders are represented equally in every part of the country. In one Ontario region, this young broker still stands out.
"At Jones & Associates, I'm the first female commercial lines manager, so I've already broken barriers," said Dorothy Renzi (pictured). "Also, just being a female in commercial sales is not common."
Despite holding a unique position in her region, insurance wasn't always the career path that Renzi saw herself going down. In fact, she was working in the medical field when a manager at Aon approached her and asked if she had any interest in joining the company.
"At that time, I didn't feel like I was ready to leave my career, so I declined, and after a few more visits of them trying to push me into the insurance industry, I finally thought, the medical field is always one that you can jump right back into, they're always desperate for people, so if I'm going to jump, I should jump now and try it out, and I can always go back," she told Insurance Business.
Renzi started at Aon in marketing, and then moved into commercial sales before she was headhunted by Jones & Associates earlier this year. Today, she is also the Territory 1 team leader for the Insurance Brokers Association of Ontario's (IBAO) Young Brokers Council (YBC).
To get other people thinking about a career in insurance, Renzi proactively reaches out to potential candidates, mirroring the way that she got into the field herself.
Read more: How one organization helped plug a major talent gap in insurance
"I've actually hired three people since I've been here, and all three are young brokers. A lot of what I've been doing is recruiting people by referral," she explained. "I find a young broker who may know a friend that may be interested in this career, and I ask if they can reach out to me so I can quickly talk to them about a career. It all starts with a cup of coffee – no real interview, just talking about the industry and the different avenues you can go down, and what the job actually is because I feel like we all have this idea of what we think insurance is."
Pulling young talent into the industry is a tough job, with the challenges coming to life at a recent career fair Renzi attended. She was overseeing a booth at the university event when she realized that lines for other companies were much longer.
"At my little booth, nobody wanted to come talk to me. They would walk by and say, 'oh, insurance' and just continue on," Renzi said, though she wasn't ready to give up. "I grabbed my pamphlets and I started poaching from other lines, [telling people], 'you probably are not interested in this, but just talk to me for five minutes, and I can tell you what's great about this industry.'"
After all, that awareness about the work of insurance brokers is often lacking in the younger generations, who associate the position with sales.
Read more: Not your parents' insurance broker: Association makes push to reach younger generation
"A lot of people feel like insurance is strictly sales, and that it's commission-based and if they don't perform, they're not going to make any money, so my opening thing is to tell them about all the different career options that they can go into," said Renzi.
She's discovered that a big pull factor for young people can be the financial rewards of an insurance career.
"I find that a lot of people coming out of university want to make a lot of money right away, so I tell them about the different avenues and give them price ranges. In our IBAO pamphlet, it actually has salary ranges for each career, so immediately I turn to that page because that's what they want to know," said Renzi.
As for what the future holds for Renzi in her insurance career, the broker is pleased with what she's accomplished so far – for good reason.
"I've broken a lot of barriers as it is, and I've worked really hard to get where I am now. I see myself being in the same management position, further growing our brokerage to become bigger and better," Renzi said, adding that she also plans to stay on at the YBC. "It's become a huge passion of mine, and one I hope to continue. You have a two-year term, and then you either have to [be replaced] or move up, so I'm definitely aiming to move up to the executive board."