"The balance sheet will work if we take care of our clients" | Insurance Business Canada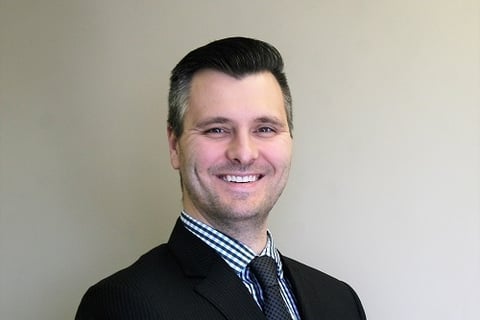 An Insurance Business Canada Young Gun three years in a row, Cole Leitch, president and CEO of Avant Insurance Brokers, knows a thing or two about succeeding in the industry. His modest beginnings in insurance, sweeping the floors of his father's brokerage, turned into an established career that led him to open his own brokerage years later.
In this Q&A, Leitch (pictured) shares insight into starting a company for other brokers with the same goal, and points to where the industry can do better on the client side.
Tell us about your career trajectory. How did you end up in the insurance business, and president and CEO of Avant?
I got into the business because it was a family business. My dad owned a brokerage called Flanders Insurance, so when I was in high school and doing summer jobs, I was working for his company, sweeping floors in the office and cleaning toilets and doing everything.
I worked my way up from there after high school and started working part-time while I was playing hockey and stayed in the business, moving my way up through doing auto and personal lines, and then got into being a marketing assistant, got up into commercial sales, and continued on as a commercial sales person.
My dad sold in 2007 and all the staff from Flanders went over to the place that he sold to. I worked there as a commercial account executive for five years. From there, I moved on to another brokerage as a commercial account executive, and two years ago, I left there and started Avant with my father.
What is the most fulfilling aspect of your work?
That answer has actually changed a little bit over the last few years. It used to be dealing with clients and having the relationships and taking care of the people, which is obviously still very important, but now I'm finding I'm getting a little bit more satisfaction and internal reward from dealing with staff – helping staff grow, encouraging them to challenge themselves, to improve themselves – where I can now give some of my experience to some of the people that are less experienced, and help them grow their careers. That's becoming a pretty major part of my job right now.
What was it like starting your own brokerage and do you have any tips for insurance professionals hoping to follow in those footsteps?
It's been interesting. There have been challenges, of course. There have been some interesting situations where there have been some politics involved, with respect to different insurance companies, but it's been incredibly rewarding. It's given me an opportunity to buck some of the trends that are going on in the industry right now, and a lot of the competitors that are going into more of a transactional mentality. I've been able to encourage our staff to go back into the relationship side of things and dealing with people – take a little bit more time, show a bit more of the expertise rather than try to get out as many renewals as possible on a day. I found that we've gotten some good responses from that.
As far as advice I could give, I would say one of the big things would be make sure you foster relationships, not just on the client side, but on the insurance company side. There have been a few people who have been really influential in our ability to grow as a company, and getting set up [when we started out], there were some people that, without them supporting us, and without the relationships and the friendships that I had with them, it would've been very, very difficult for us to have started Avant.
How does Avant Insurance Brokers differentiate itself from competitors?
As far as where our clients are concerned, we spend a little bit more time reviewing, discussing, looking at options, taking the time to make sure that coverage is correct. Once we know that coverage is correct, we make sure that the price is correct and if we can find something better as far as price goes for the same coverage, we change right away.
We don't worry about the amount of premium or the amount of commission that a client is making us because if we take care of those clients, we'll make enough money and we'll make our profit, we'll be taken care of financially.
That's one of the big things that we do a lot differently, is we worry about the clients first. The mentality is that the balance sheet will work if we take care of our clients. We will make the money.
The other thing is that we're 100% independent. Not a lot of brokers in our area and not a lot of our competitors – almost none of our competitors – can say that at this point. We're not owned by an insurance company, we don't have loans from an insurance company where we have minimum premium requirements, we don't have ownership by large corporations or international entities. It's a family business and there's not as many of those left in our industry as there used to be, and that goes back to the relationships that we have.
If you weren't working in the insurance space, what would you be doing right now?
I don't know – I've been in insurance almost my whole life – maybe something in aviation? I went and got my pilot licence a few years back. I took a break from insurance about 12, 13 years ago now and I tried air traffic control for a year or two, so maybe I'd be doing something like that – either flying or air traffic control.
I saw more opportunity for advancement [in insurance]. I saw more opportunities in general. Aviation is a tough one. For the first number of years, you're almost literally flying for food. It's tough to have a family – I have three kids – it's tough to feed your family when you're not making really any money on your job, so it was difficult from that side of things, too, and being away from home.
Related stories:
From an entrepreneurial itch to a tech-driven brokerage
Matching clients with the right policies is 'a lost art in the personal lines sector'