Auto insurers at coronavirus crossroads | Insurance Business Canada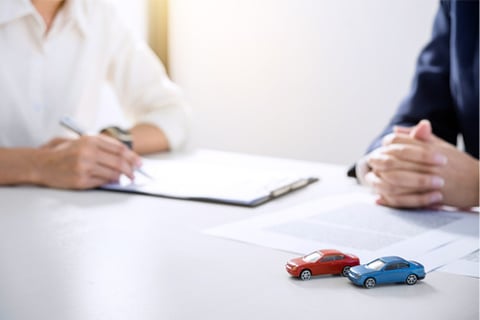 Auto insurance firms across Canada have made a significant gear shift in response to the coronavirus crisis. As Canadians abide by 'stay at home' orders to prevent further spread of COVID-19, the amount of traffic on the roads and the number of kilometres driven have both decreased massively. As a result, auto insurers are experiencing far fewer claims, and, in the past four to six weeks, their loss ratios have significantly improved.
At a time when auto insurers are experiencing some light relief – let's not forget the past few years of hardening market conditions, where the industry was plagued by a rising frequency and severity of claims combined with an extremely unforgiving litigation environment - drivers across Canada are suffering. Many have lost valuable income due to non-essential business shutdown, COVID-19-related furloughs, or simply due to the struggling state of the Canadian economy. While their vehicles are mostly sat stationary at home, many drivers are seeking some relief from their auto insurers.
For the most part, that relief has been granted. Most of the major insurance brands in the country have been proactive in introducing special coronavirus measures to help customers through this challenging time. Desjardins General Insurance was one of the first insurers to announce it is offering refunds on auto insurance premiums for clients whose commuting habits have "significantly changed" and who only use their vehicles for essential trips. Desjardins' three-month rebate program is open to anyone who has lost their job, working from home, or is otherwise self-isolating.
Desjardins was quickly followed by La Capitale Insurance, Allstate Canada, Intact Financial, Travelers Canada, RSA Canada, and Aviva Canada, among others, to offer short-term auto insurance premium rebates and adjustments amid the coronavirus. And many insurers are not stopping at premium rebates. Lots of firms are taking further measures such as waiving missed payment fees and cancellation fees, and offering options for payment deferrals.
"I think regulators and insurance companies across Canada have done a fairly strong job so far," said Sean Widdess, vice president, strategic partnerships, LowestRates.ca. "They've made some proactive changes in an unknown time and been pretty efficient in giving customers some options and some relief. And they're doing this at a time when many insurers are in a difficult spot. They don't just offer auto insurance; they offer home insurance, commercial insurance and other verticals, some of which will have some extreme costs as a result of COVID-19, and so there are a lot of unknowns and risks for their businesses right now as well."
In order to offer auto insurance premium rebates, auto insurers are conducting a reallocation of risk, explained Matt Alston, co-founder and COO at Surex, a digital insurance brokerage headquartered in southern Alberta. Essentially, many firms are redefining drivers as 'pleasure use' rather than daily 'commuter use,' which brings the price down and enables them to pass on any savings or extra profit to insureds in form of premium rebates.
"This has led to two common scenarios at our brokerage," said Ryan Kirk, Surex vice president of distribution in Eastern Canada. "Either clients don't know any relief is being offered, and then the broker shares that their carrier is going to refund some premium or find ways to save money, and a lot them are pretty impressed. The second scenario is when clients call in expecting something that they've heard about on the radio or through the media, and they're either greatly happy that they get what they've heard about, or they're disappointed because their carrier isn't offering that particular relief."
Read next: MPI outlines rebates to auto insurance customers
Alston added: "When somebody calls up and says: 'I saw this carrier was offering this,' a lot of times they're making the mistake of thinking every insurance company is the same. We still get customers who ask for quotes and then they're surprised at the $800 price range between Companies A, B, C, D, and E. So, when somebody calls and says: 'I'm upset that Company A is offering this, but I'm with Company B,' we have to remind them that Company B was $500 cheaper than company A, so even with these short-term incentives, they're still better off with who we originally put them with. I think Canadians are starting to understand these concepts, and that's part of why Surex has been so successful – because we're able to provide that transparent price comparison."
If one thing is for certain in this time of great uncertainty, it is that people are paying attention to what their insurers are offering, and what their neighbours' insurers, their friends' insurers and their family members' insurers are offering. They're searching for comparisons on Google and they're no longer afraid to entertain the idea of online insurance shopping. As Widdess put it: "I think more than anything, this situation is changing consumer behaviour, as well as changing how brokerages and insurance carriers may want to interact with consumers."
He told Insurance Business: "We've seen a different demographic come to the LowestRates.ca site. It's almost like the coronavirus pandemic has fast-tracked the natural progression of evolution [when it comes to online insurance shopping]. It is no longer if Canadians will shop online for financial products; it's when. It has fast-tracked the digital evolution of those who typically would renew their auto insurance policy by visiting or calling their local brokerage or retail shop. They don't have that option right now, so the first thing most Canadians do is they visit Google and they start to shop around. Once they've got that new habit and realize it isn't foreign or difficult to purchase financial products online, and that they can still speak to a broker or an insurance advisor to get great advice and transact their policy in an efficient manner, they're not going to revert back."
Read more: IBC responds to auto insurance regulation changes in Ontario
"The fact that some insurance companies have moved so fast in response to COVID-19 and adapted to offer fantastic customer service online highlights to the industry that this is a good way to do business," Widdess added. "This is not displacing or replacing brokers. Actually, I think this is a massive opportunity for the broker community to realize that they need to be where Canadians shop. All challenges in life typically bring opportunity. Many consumers who shop for their auto insurance online still want to work with brokers, so brokers need to be ready for that. There are companies that are fantastically ready for this, and there are others that have a lot more work to do. Regardless, I don't think anyone can put the genie back in the bottle at this point. While it's impossible to say how this COVID-19 situation is going to play out, I do believe that shopping behaviours are going to change, and I think insurance carriers and brokerages need to be thoughtful about how they run their operations to shift more into that digital environment."
Surex has been a digital insurance brokerage from the offset. Since its founding in 2005, the firm has successfully merged the digital with the personal, offering the efficiencies of an online marketplace combined with the support of licensed insurance advisors. Like Widdess, Alston said he expects other brokers to start looking at this hybrid digital/personal model moving forwards.
"This coronavirus situation has prepared the consumer to see what options they have available," said Alston. "It's times like these when consumers see there's more than just the visit to the local brokerage; there are online options available, but sometimes people don't notice those other options until they're forced to look at them. This situation also prepares insurance brokerages to provide services that they have not offered previously to ensure that they can easily reach the customer without that face-to-face contact that they were more reliant on in the past. Whether we're talking insurance or any other industry, this has definitely required everybody to think more about the digital side of things and how we can make things more convenient while still offering great customer service to our clients. This is something everybody has to look at."