Young scientists propose practical solutions in fight against climate change | Insurance Business Canada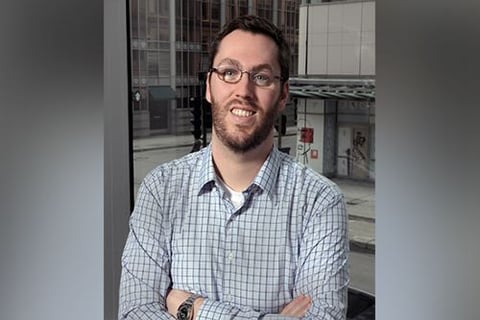 It's not just the adults in the room who are concerned about the effects of climate change on society. The younger generation is also taking up the reins to mitigate against the fallout of global warming, as intensifying weather events have already inundated Canadian communities.
To help them in this fight, Intact Insurance partnered with the Canada-Wide Science Fair for the second year in a row as 500 young minds came together in Fredericton, in part to propose practical solutions to managing the impacts of climate change.
"We all have a role to play to help Canadians adapt to the realities of climate change," said Intact meteorologist Jonathan Gadoury (pictured). "We really see value in investing in these kids, who are very inspiring and very smart, and we feel that these are the kids who are going to be dealing with everything that has been done to our planet with regards to pollution and climate change. They were born into this context and we believe they're the ones who are going to find solutions."
The recipients of the Intact Climate Change Resilience Awards in 2019, which were presented at the science fair, proposed projects centred on flood prediction systems using machine learning, and automating the detection and probability of wildfires, while winners from 2018 focused on mitigating landslides and avalanches and better approaches to garbage removal, among other winning ideas.
With flooding events from the past few months submerging communities, the pressure is on to find ways to help people protect their homes and businesses as the inevitable wave of climate change continues to wash over us.
Read more: Report: Basement flooding is the top climate change cost in Canada
"If you have an increase in temperature overall, air that is warmer can hold more moisture, so usually this translates into more precipitation and we're seeing the effects right now as more precipitation increases the chance of flooding," explained Gadoury, adding that humans' relationships with water and our desire to live closer to it is further exposing us to this risk.
On the other end of the spectrum, increased temperatures also bring with them heat waves, such as the one seen in Quebec in 2018 that was responsible for the deaths of 70 people. Dry conditions also lead to more wildfires.
Read more: Northwest Alberta continues to grapple with wildfires
"Communities are in this situation where they have to adapt, and we notice climate change is not happening tomorrow, not in the future – it's happening right now. It's irreversible. We can work on reducing greenhouse gases and we can work on all these things, but ultimately the impacts are being felt right now," said Gadoury. "As an insurance company, we have a role to play in trying to invest in the younger generation via the Canada-Wide Science Fair to hopefully find solutions to these [problems] to help the world and Canada tackle the impacts of climate change."
Besides its partnership with the science fair, Intact recently announced that it will commit $2.3 million to 16 charitable partners across Canada with the goal of protecting Canadians from the impacts of climate change. And, back in 2015, the company launched the Intact Centre on Climate Adaptation, in partnership with the University of Waterloo, whose main mandate is to conduct research that focuses on developing practical solutions and guidance for Canadians on how to adapt to extreme weather, such as a dedicated home flood protection program.
"We're really trying to apply what we know and help Canadians understand that just by spending a couple of dollars, you drastically increase your chance of protecting your home against flood," said Gadoury.